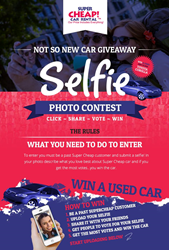 We hope the extension will bring in more voters to the contest for a fair vote.
(PRWEB) April 29, 2015
In September 2014, Super Cheap Car Rental announced their Not So New Car Rental Giveaway Contest to find the best selfie from their clients. Now Super Cheap has decided to expand the contest so that more of our customers can enjoy it. The new official deadline is 1 October 2015.
The contest involves the submission of a selfie to Facebook with a short caption that explains why the contestant loves Super Cheap. Once the contestant has submitted his or her photograph, it's up to the voters to decide on the winner. At the end of the contest, the selfie with the most "Likes" on Facebook wins a 2006 4-door 5-passenger Toyota Corolla.
All contestants must be 18 years or older and legal residents of the United States. All entries must be appropriate for public audiences and maintain a friendly, fun attitude. The photographs must follow the Facebook Terms of Service, and must contain only the contestant in order to avoid infringing on another individual's copyright, privacy, publicity, or trademark rights.
Most importantly, all selfies must refrain from obscene, derogatory, defamatory, or inappropriate content. One of Super Cheap Car Rental owners, Danny Barker explained the rules, "Super Cheap wants to host a fun and welcoming contest for all our contestants. Get creative with your selfie to increase your chance to win." Super Cheap Car Rental owner Steve Bernard added "The more interesting the selfie, the more likely you are to gain votes."
The winner will be one lucky owner of a Toyota Corolla. This vehicle has 40 MPG on the highway, and 32 MPG in the city. Many Corolla owners boast of the 200,000-mile lifespan of these cars, which means the winner will have a prize that lasts for years.
Voting began on 1 April 2015 and now ends on 1 October 2015 at 11:59 PM. Contestants are encouraged to promote their selfies through social media networks. In the case of a tie, Super Cheap officials will vote to choose the winner. Because friends or relatives of Super Cheap employees are prohibited from entering the contest there won't be any biases in the decision.
Bernard explained the decision to change the end date, "We hope the extension will bring in more voters to the contest for a fair vote."
Super Cheap Car Rentals is looking forward to see the final results and the creativity of contestants who can enter the contest here: https://www.facebook.com/SuperCheapCarRental/app_451684954848385