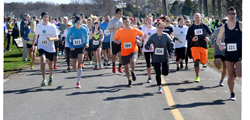 Our mission is to continue to raise awareness and have our voices heard.
Stamford, CT (PRWEB) May 05, 2015
Sunny skies and cool temperatures made for great conditions last Sunday at Cove Island Park as nearly 400 runners and walkers participated in Global Lyme Alliance's (GLA) inaugural "Lyme Walk & Run," raising nearly $35,000.
The 5K and 10K runs and 1-and 3-mile walks were held to increase awareness about Lyme disease and to raise funds for tick-borne disease research. The "Lyme Walk and Run" was a combined event created by the recent merger of Lyme Research Alliance (LRA) and Tick-Borne Disease Alliance (TBDA), to form the new Global Lyme Alliance, the largest tick-borne disease organization in the nation.
Stamford Mayor David Martin, who has lived in the community for more than 30 years, attended and told GLA he's known families "struck down by Lyme disease." He stressed that ongoing tick-borne disease research is essential, stating "a good diagnostic test would make a huge difference."
Race results have been posted on coolrunning.com and hitekracing.com. The 5K first place male runner was Keith Cuttite of Norwalk. His finish time was 19:10. For the second year in a row, the first-place female runner was Dana Blanchard, of Greenwich, with a finish time of 20:34. The top 10K male and female runners were Fairfield's Ed Finnegan with a time of 39:22 and Stamford's Shanna Miller, finishing with a time of 41:51.
Second place 5K male and female runners were Michael Racanello of Cortlandt Manor, NY, who finished with a time of 20:21, and Sophia Hopwood of Trumbull, 23:00. Second place 10K male and female finishers were Tim Jarica of Canton, with a time of 43:37 and Toni Blanchard, of Greenwich, 44:05.
The top 5K finishers in the youngest "age 9 and under" category were Glastonbury, CT's Evan Lionberger, age 9, with a finish of 31.35 and Trumbull's Rose Hopwood, also 9, who finished at 34:05.
The top fundraising award went to Fred and Orna Grand, who raised an estimated $7,500. Orna, the Event Chair, told the crowd that she was bitten by a tick in 2002 and it took "too long" before she was diagnosed. As a result, seven years ago she decided to volunteer to help educate others about tick-borne illness.
"We would all like to see more accurate tests, improved treatment, increased awareness, more support and more physicians who are Lyme-literate," she said. "Our mission is to continue to raise awareness and together have our voices heard in order for most needed changes to occur."
GLA Vice Chair Debbie Siciliano, who also spoke, thanked everyone who had volunteered, sponsored or came out to support Sunday's event. Through the ongoing efforts of GLA, she said, "we hope to conquer tick-borne disease through research and education."
Sponsors and vendors for the Lyme Walk & Run included Connecticut Tick Control, Craig Skinner Photography, Crystal Rock Water, Deb Bossio, ND, Deni Weber, Fleet Feet of Stamford, Freudigman & Billings LLC, Gold's Deli, Greenwich Running Company, Honda of Westport, Jennifer Reid and Lyme Connection, Juice Plus, Kash Group, Louise Sullivan, Maritime Rowing Club, My Health First Urgent Care, Natural Awakenings, 95.9 the Fox, Orthopedics, Neurosurgery & Sports Medicine of Greenwich,The Edge Fitness Clubs, Tony Spero's A Touch of Magic and the University of Bridgeport.