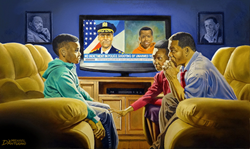 No parent should have to explain to their child that it's not safe to assume they share the same justice and freedom as their white friends.
Los Angeles, CA (PRWEB) April 30, 2015
A distinguished panel including John Legend, Russell Simmons and LACMA's curator of contemporary art, Franklin Sirmans, has chosen artist/activist, Michael D'Antuono's poignant painting, "The Talk," to be featured as part of the large scale pop-up exhibition, Manifest Justice in Los Angeles from May 1-10 at the historic Baldwin Theatre in Los Angeles.
D'Antuono's timely piece humanizes the plight of institutional racism in an attempt to elicit empathy from a country that has become numb to the everyday occurrence of unarmed black men and boys being shot down in the streets by those sworn to protect and serve. "The Talk" depicts a black couple struggling to find the words to explain to their son that it's not safe for him to assume that he shares the same justice and freedom as his white friends. They are bathed in the light of a news report of another police shooting of an unarmed black child going without an indictment. The television is flanked by portraits of Martin Luther King Jr. and President Obama. 
Building on the widespread activist responses to racism and police brutality that have taken place in recent months, the Manifest Justice Exhibition brings together approximately 200 high profile artists plus activists, community leaders and grassroots organizers from around the world to help to foster important dialogues about race, justice, human rights and bias in the United States and worldwide. In addition to the art, the event will host seminars, and panel discussions.  
D'Antuono has brought attention to the issue before with his provocative painting, "A Tale Of Two Hoodies." Learn more about the artist at http://www.ArtandResponse.com
For more information go to http://www.manifestjustice.org.
Press contact:
Michael(at)ArtandResponse(dot)com
845-522-6692