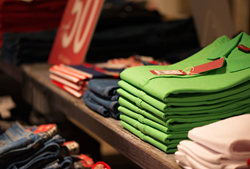 Retire to Georgia in Style
Savannah, Georgia (PRWEB) April 30, 2015
Visitors to the newest Tanger Outlet Mall grand opening on April 16-19 in Pooler, GA, were treated to fun, festivities and excellent Savannah shopping as 85 designer and favorite brand outlets opened for business. Pooler, a western suburb of Savannah only 10 miles from historic downtown, carries its own interesting history. In 1838, the town was named for Robert W. Pooler, a prominent Savannah resident who worked for the Central of Georgia Railroad. The company's president was so happy with his efforts to extend the railroad that he named the first station outside of Savannah Pooler Station. It was here that General Sherman encamped before continuing his March to the Sea, and the fiery siege of Savannah.
But fireworks of a different sort lit up the new Savannah outlet mall, as thousands of shoppers from Coastal Georgia, South Carolina and the entire region converged to enjoy live entertainment, appearance by Jonathan and Drew Scott, the HGTV Property Brothers, contests and giveaways. Factory outlet stores such as Ann Taylor, Brooks Brothers, Coach and Ralph Lauren bring the height of style to excited shoppers, while the new facility provides an upscale shopping experience and modern amenities like free Wi-Fi access throughout.
The 560,000 square foot Savannah shopping center is located convenient to I-95 and minutes from Savannah Hilton Head International Airport. In addition to offering shoppers a huge selection from the best accessories, apparel, children's, footwear and specialty stores, the center brings an estimated 900 jobs to the Savannah community, as well as commerce generated by out-of-area visitors. The Savannah Tanger Outlet Mall is a significant regional attraction, and a bargain-hunter's paradise. It's also close to many a fine gated communities in Georgia, so you may want to add this new regional mall to a travel itinerary between Savannah shopping trips and looking at fabulous coastal Georgia master-planned neighborhoods, such as Savannah Quarters and Southbridge.
SAVANNAH QUARTERS
Three picturesque neighborhoods, nature preserves, parks, lakes and lagoons comprise the 2,600-acre Savannah area community of Savannah Quarters in Pooler. This gated development offers a resort lifestyle, with an 18-hole Greg Norman Signature Golf Course and the Savannah Quarters County Club (named "Best Place to Play Golf in Savannah" by Savannah Magazine) taking center stage. Fully one third of Savannah Quarters is dedicated preserves, wetlands and green space, accentuating the peaceful and private lifestyle close to Historic Savannah, Tybee Island and all the attractions living in a Savannah community has to offer.
Each Savannah Quarters neighborhood—Easthaven, Westbrook, and The Village—is gated, and includes its own unique neighborhoods and types of homes, ranging from low-maintenance townhomes to single family and estate homes. For those who love the golf lifestyle, Westbrook revolves around the Savannah Quarters Country Club, its signature Greg Norman course, and incredible 29,000 square foot golf clubhouse amenities with fine dining. Westbrook residents can enjoy a social membership at the club, as well as use of the resort-style swimming pool, Fitness Center, and tennis courts. Golf memberships are optional for all Savannah Quarters residents. Easthaven boasts three different neighborhoods with single family or townhouse residences, as well as a swimming complex, playgrounds, parks and nature trails. Finally, the Village provides a town center experience with apartments, retail shops, office space, restaurants, gas stations, and everything a Savannah Quarters family could want within walking or biking distance. If you're looking for a fine gated communities in Georgia that are golf cart friendly and environmentally sustainable, look no further than Savannah Quarters.
SOUTHBRIDGE
The established gated community of Southbridge has two very important things going for it—a prime location 12 minutes from Savannah's historic downtown area and the Rees Jones masterpiece course at Stonebridge Golf Club. Well, maybe more than two. Of the 1,400 acres in this Savannah, Georgia, gated community over 450 are set aside for green space and nature preserves. Boomers and families of all ages will enjoy the traditional southern architecture styled neighborhoods with a selection of maintenance-free luxury villas, townhomes, single family and executive homes. Relaxing views range from manicured greens and rolling golf course vistas to tranquil water or Georgia pine and oak forest scenes.
This charming gated Savannah community has all the first-rate amenities one would expect including the elegant Southbridge Golf Club, and the Southbridge Racquet club with 12 clay courts, two hard courts, and USPTA teaching pros on staff. Residents also enjoy many opportunities for an active social life with dozens of clubs (the Southbridge Women's Club and the Garden Club are popular favorites) and family-friendly activities available year-round. In addition to the Golf Club, Southbridge residents appreciate a world of outdoor activities at their doorsteps. The community has well-stocked lakes and lagoons for languid hours, and miles of paved biking and walking paths for fitness and social interaction.
Another wonderful Southbridge amenity is the 21,000 square foot Grand Lake Lodge & Spa. Membership in the club is optional, providing yet another choice for a gracious and fun-filled lifestyle for Southbridge and local area residents. The facility includes a resort-style pool with lap pool, a gourmet restaurant and pub, full-service spa treatments, a Fitness Center with personal trainers and group fitness classes, kid's programs, banquet facilities and plenty of social activities.
Savannah Quarters and Southbridge are two of the best gated communities in Georgia in the Savannah area, each offering warm, hospitable neighborhoods and a gracious Georgia gated community lifestyle.
About Real Estate Scorecard:
Real Estate Scorecard writes unbiased real estate reviews providing in-depth information about popular gated communities in Florida, Georgia, North Carolina, South Carolina and Tennessee, all in an effort to help people discover where to retire in the South.
Website: http://realestatescorecard.com