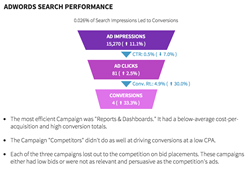 Every advance in our technology will help marketers spend less time reporting and more time marketing.
Durham, NC (PRWEB) April 30, 2015
Automated Insights (Ai), whose Wordsmith for Marketing software automatically writes marketing reports like a human expert, is adding pay-per-click advertising campaigns to the list of reports that marketers no longer need to worry about.
"By connecting a client's Google Analytics account to Wordsmith for Marketing, agencies automatically get in-depth, plain English reports on SEO, social media, and content marketing," CEO Robbie Allen announced today. "Now, marketers can offload their AdWords reporting burden as well."
The new Google AdWords integration pulls in the metrics most important to advertising agencies and their clients, providing clients with a snapshot of AdWords activities and results. The reports now include more in-depth sections on AdWords search and display performance, top campaigns, ad groups, and keywords.
The new PPC reporting feature is already proving popular with current customers, including Ben Hopper, Digital Marketing Analyst at archer>malmo.
"Wordsmith for Marketing is a clean, easy-to-use tool that provides deep insights on my client's backend site metrics and paid search campaigns," he said. "These insights would take hours to pull together were I doing them myself."
Ai's Director of Product Management Adam Long is looking to add more new features this year.
"We launched in April 2014, and we're already helping hundreds of agencies save hours on every single client report," he said. "Every advance in our technology will help marketers spend less time reporting and more time marketing."
ABOUT AUTOMATED INSIGHTS
Automated Insights (Ai) uses its patented Wordsmith platform to power self-writing reports. Using natural language generation, Wordsmith transforms big data into written reports with the depth of analysis, personality and variability of a human writer. The platform generates insightful, customized content on an unprecedented scale for clients like The Associated Press, Samsung, Edmunds.com, Yahoo!, and Comcast. Automated Insights is a subsidiary of STATS LLC, a Vista Equity Partners company. Learn more at http://www.automatedinsights.com.