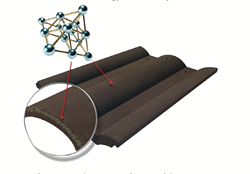 Rialto, Calif. (PRWEB) May 01, 2015
Eagle Roofing Products, the industry's leader in concrete roof tile manufacturing and innovation, announced the official launch of their new Eagle Platinum Tile™ line in the East.
Eagle Platinum Tile™ is an ultra-premium concrete roof tile with a patented energy saving coating applied during the manufacturing process. Unlike other sealants, the Platinum coating penetrates the surface of the concrete tile providing added protection and benefits. The Platinum coating is a thermal insulator that reduces heat transfer into and out of the structure and can potentially lower heating costs in the winter and cooling costs in the summer between 20 and 40 percent.
In addition, Eagle Platinum™ customers will benefit from a 10-year warranty against the growth of algae, mold and bacteria while enjoying a reduction in maintenance and cleaning costs over the life of the roof.
Hawk Kinney, Florida Regional Sales Manager, said in a statement, "The initial interest on our new Eagle Platinum™ product has surpassed all of our expectations." He added, "Although all roofing tiles offer significant savings off your heating and cooling expense compared to other roofing materials, Eagle Platinum™ may enhance these savings by 20 to 40%. This combined with the tile industry's only 10-year warranty against the growth of mold and mildew truly makes this product the cost saving solution our customers have been waiting for."
Eagle Platinum™ is available currently for customers on the East Coast and in the Midwest, and will become available on the West Coast in Q3 2015.
For more information on Eagle Platinum Tile™, visit http://www.eagleroofing.com or call 1-888-TILE-ROOF.
About Eagle Roofing Products: Eagle Roofing Products is a division of Burlingame Industries, a California-based, privately held family organization that has been in the concrete tile industry for over 40 years. Founded in 1989 with five employees, Eagle has grown to four manufacturing plants, seven design centers and a work force of 500 employees, specializing in providing concrete tile roofing solutions for the building industry.
###