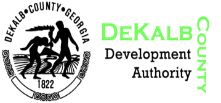 Decatur, GA (PRWEB) May 11, 2015
The Development Authority of DeKalb County (DADC) is excited to announce the approval of brownfield funding requests that will spur economic development within two distinct county locations. The DADC administers the Environmental Protection Agency's (EPA) Brownfield Revolving Loan (BRLF) Program, which promotes the cleanup and reuse of a brownfield, as well as, provides financial assistance for brownfield revitalization. EPA defines a brownfield as the reuse, redevelopment, or expansion of real property, which may be complicated by the presence or perceived presence of a hazardous substance, pollutant, or contaminant. The BRLF Program offers both loans and sub-grants to eligible entities.
"The allocation of these funds indicates the increasing relevance of the DADC in helping to redevelop important commercial property in our County," said Vaughn D. Irons, Chairman of the Development Authority of DeKalb County. "The board hopes this investment will help be a catalyst for both projects and the surrounding areas."
The City of Lithonia was approved to receive a sub-grant in the amount of $184,400. These funds will be used for asbestos remediation. City of Lithonia, Mayor Deborah Jackson, stated "the removal of this environmental hazard will clear the way for the City's portion of the Lithonia Plaza to be demolished. We see this opportunity as a jump start to the City's redevelopment plans for the plaza."
Doraville Sixty, LLC, owner of the GM Plant now referred to as Assembly, was approved for a loan in the amount of $502,057 for remediation of hazardous materials and contaminated soil. The completion of this project positions the site for future development. Eric Pinckney, Project Executive Director with Doraville Sixty, LLC, stated that "we are extremely pleased the Development Authority of DeKalb County approved the BRLF loan for ongoing site work at Assembly. The leadership of the Development Authority has worked hard with Doraville Sixty, LLC to establish this facility which we believe will be the catalyst for us to create a world-class community at Assembly. This will provide the momentum for thousands of future well-paying jobs in a connected urban node located just inside the Perimeter and directly on a MARTA rail line."
About the Development Authority of DeKalb County
The Development Authority of DeKalb County (DADC) is the economic development arm of the County. The DADC works closely with businesses of all sizes, local regional, and state government entities, chambers of commerce, educational institutions, and community leaders. Through strategic collaboration, it is our mission to expand DeKalb's economy, strengthen our tax base, and support local businesses.