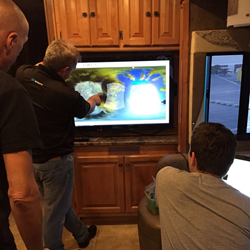 "Our goal is to cater to the specific needs of the growing VR content creator community" - Michael Kintner
Los Angeles, CA (PRWEB) April 30, 2015
360Heros Inc., a company specializing in comprehensive VR/ 360 video workflow solutions, has introduced "VR Bootcamps" as the latest initiative in their quest to advocate virtual reality content creator education. These 1-3 day intensive training sessions cover content capture, media management, post production and playback for VR/ 360 video content.
Each bootcamp is designed with a custom syllabus catering to the specific needs of the production company receiving the training. The core elements of these training sessions include content capture, media management, post production and display technology. This basic breakdown of the VR content creation workflow is then further developed and customized depending upon the particular producer's needs:
"Our goal is to cater to the specific needs of the growing VR content creator community. For some producers this means spending more time on filming techniques, while other bootcamps focus heavily on post production. These sessions are great because it allows us to offer a more tailored level of support for production companies and filmmakers" stated 360Heros CEO Michael Kintner in regard to the bootcamps.
Bootcamp attendees have also received a tutorial on the company's new 360CamMan V2 media management software. With a launch expected within the next month, the software offers producers new features such as multi-SD card data ingestion, advanced video file analysis and Mac compatibility.
For more information on VR/ 360 video and 360Heros, visit 360Heros.com.