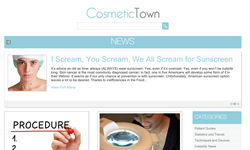 Los Angeles, CA (PRWEB) April 29, 2015
Cosmetic Town, the leader in cosmetic and plastic surgery information, has launched their newly designed and formatted News and Blog section.
With contributions from talented and informed writers, the editing team has a variety of subjects and information to help inform their readers on a plethora of subjects. With categories like Patient Guides, Statistics & Trends, Techniques & Devices, and Celebrity News, Cosmetic Town Journal has plenty of material to keep visitors engaged and entertained.
Dealing with current events in medicine and the latest cosmetic surgery news in ways that are comprehendible and enlightening for casual browsers of cosmetic subjects and everyday users alike, Cosmetic Town has built a pocket of followers that are an extensive mix of potential recipients of plastic surgery trying to further their understanding, and repeat patients keeping up with the latest and greatest techniques and products to keep them feeling great.
Whether it's the FDA approval for a new injectable, or a new medical technique pioneered by a specific surgeon, Cosmetic Town Journal and its staff will surely get to the bottom of the story, informing everyone on everything they need to know about any given cosmetic surgery subject.
With writers from all walks of life and in different parts of the country, Cosmetic Town Journal, has the resources and writing talent to ensure that its readership is up to date with information, trends, and entertainment news dealing exclusively in cosmetic surgery topics.
This is a long time in the making. "Our editorial and website development team has worked long and hard hours trying to bring their readership a new section on their website that will both entice and keep new and older readers and visitors, alike. All of their work has paid off as they introduced the newly redesigned News and Blog section earlier this month," said The CEO of the company.
Cosmetic Town is an online publication and one of the top leaders in informing the public on cosmetic procedures straight from the mouths of top doctors, from all over the United States. With users from all over the country, Cosmetic Town engages plastic surgeons and their practices to bring the best in the field on a national level, but brought to its readers on local terms by seeking out the best surgeons in every municipal market.
About Cosmetic Town
Cosmetic Town is the only cosmetic medicine site that authenticates participating doctors and identifies real patients. The site features doctors that have been carefully selected and endorsed by their peers, making it easy for users to find the most qualified and highly recommended cosmetic doctors in their area. Users can also read about the latest news in plastic surgery, anti-aging treatments, hair restoration, cosmetic dentistry, and facial and body rejuvenation procedures at Cosmetic Town Journal.