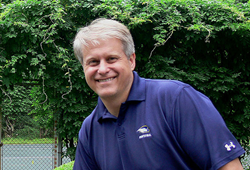 Fairfield, CT (PRWEB) April 30, 2015
John Bisack III, President and Managing Director of Performance Improvement Partners, America's leading technology solutions company exclusively serving the Private Equity Industry, is the recipient of the 2015 Beta Gamma Sigma Chapter Honoree by Hofstra University School of Business.
The award, given annually by the University International Honor Society, Beta Gamma Sigma, recognizes executives who have achieved documented business success while maintaining a core value system of honor, wisdom, earnestness.
"John is living proof that you can still achieve significant business success in America by doing things the right way," said Beta Gamma Sigma advisor, Prof. Glen Vogel, P.E., Esq. "The fact that he has grown his company from a startup just 12 years ago into an innovative IT powerhouse is a remarkable achievement."
When asked about his company's journey from startup to powerhouse, Bisack said modestly, "Our strategy is straightforward: always put your client's needs before your own, offer significant added value, and treat them in the same manner you would wish to be treated." Bisack also credited the quality of the team, "To me, the most important asset is the people in the company, who are responsible for the success. It is about a culture of acting in the client's best interest. It is critical to have individuals who at their core believe in that philosophy and live by it. It is all about alignment, a company with a stated value system without the right people, is destined to fail."
Mr. Bisack will receive the Beta Gamma Sigma award at the annual induction luncheon at Hofstra University on May 6th.
Performance Improvement Partners (http://www.pip-llc.com), founded in 2003, is America's leading Technology Solutions Company dealing exclusively within the Private Equity Industry. PIP is headquartered in Fairfield, CT, with offices in Stamford, CT and San Francisco, and lists over 140 highly-respected Private Equity firms as clients. PIP has completed hundreds of Portfolio Company engagements across a broad range of B2B and consumer categories.