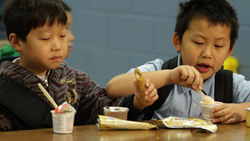 NutriStudents K-12 helps school foodservice directors challenged by the federal nutritional guidelines with real food and real help, to deliver real results.
SOUTH SAINT PAUL, Minn. (PRWEB) April 30, 2015
The Twin Cities leading school food catering company, CKC Good Food®, announced today the launch of NutriStudents K-12™, a new, web-based self-operated foodservice platform available nationally for school districts participating in the National School Lunch and Breakfast Programs. NutriStudents K-12, a spin-off of CKC Good Food, extends CKC Good Food's expertise implementing the Healthy, Hunger-Free Kids Act to any school in the United States.
"School foodservice directors across the country need help," said Nancy Close, CEO of CKC Good Food and co-founder of NutriStudents K-12. "They're struggling to offer USDA-certified menus students will eat. They're seeing increased plate and commodity waste. They're working longer hours. They're losing money. NutriStudents K-12 helps them overcome these challenges with real food and real help, to achieve real results. It takes what we've been doing in the Twin Cities for years nationally."
NutriStudents K-12 enables districts to become compliant with the federal guidelines, to operate more profitably and to function more efficiently, potentially freeing up human resources better used elsewhere. The platform also helps districts avoid potential non-payment or fines assessed when districts don't meet regulatory criteria.
"Regardless of how a district measures its return on investment, NutriStudents K-12 delivers," Close said. "If NutriStudents K-12 helps a district increase its participation by just 10 percent, which I'm confident it can, it can mean a nice increase in revenues. Add to that more efficient purchasing processes, increased commodity use and labor-savings – up to 40 hours a week by some accounts – and the return is compounded."
Streamlining menu creation, ordering, training and promotion
NutriStudents K-12 streamlines management of nearly every facet of districts' foodservice programs, from certified menus and preparation to ordering, training and menu promotion. It's not a foodservice management company but rather a web-based tool for districts to use to improve their program, saving time, money, food and frustration while pleasing students.
NutriStudents K-12 provides more than 100 certified weeks of lunch menus as well as certified breakfast, snack and after-school dinner menus – each of which meets all of the current USDA guidelines including whole grain and sodium requirements. As the guidelines change, the menus are updated in the system, ensuring schools always have access to certified menus. All of the menu items have been taste-tested by students and are in use in schools today.
"Menus are the heart of NutriStudents K-12 system," said Jeanne Hopkins, foodservice director of the School District of Superior, Wis. "The variety of menu items and creativity incorporated into the delicious entrees impressed our team in our assessment and taste tests. Each recipe considers taste, texture, color and students' general biases as well as the nutritional requirements. We are excited to use NutriStudents K-12 in all of our buildings."
NutriStudents K-12 works alongside of districts' existing nutritional management software to track and report meals served, menus and nutritional data. Combined with nutritional software, NutriStudents K-12 helps streamline the purchasing process while maximizing the use of commodity products.
To further aid in compliance with federal standards, NutriStudents K-12 includes a downloadable foodservice program training manual that provides background on the National School Breakfast and Lunch Programs – including resources to fully understand reimbursable meal criteria – the Summer Food Service Program and safe serving procedures, as well as tools to help with wellness policy creation, staff training and nutrition-in-the-classroom lessons.
Districts also have the option of adding Nutrislice, an interactive web and mobile application, to their NutriStudents K-12 licensing package. A leading promotional application, Nutrislice posts each day's meals with vibrant full color photos of actual NutriStudents K-12 menu items and corresponding nutritional information.
Available through the National Joint Powers Alliance
NutriStudents K-12 is available for members of the National Joint Powers Alliance (NJPA) to purchase without going out for bid. As a value-added component to the NJPA foodservice contract awarded to the Multi-Unit Group of foodservice distributors across the country, NutriStudents K-12 has already been evaluated according to public contract competitive bid requirements. NJPA members receive a discounted rate on NutriStudents K-12 licenses. There is no cost to districts to join NJPA.
"I've managed a lot of vendors and value-added services in my role with NJPA," said Tom Perttula, senior contract manager for NJPA "and believe NutriStudents K-12 is one of the strongest offerings I've seen. It's a powerful tool for school districts and provides foodservice directors help in areas where they need it most. I encourage our 13,000 school district members to take advantage of this program to simplify their foodservice ordering and operations."
About NutriStudents K-12
NutriStudents K-12 was established to extend the expertise and intellectual property of CKC Good Food®, a school catering company specializing in delicious nutritious meals kids love. Founded in 1990, CKC Good Food has grown to serve more than 20,000 school meals each day at 70 locations in the Minneapolis/Saint Paul metropolitan market. Even before the passage of the Healthy, Hunger-Free Kids Act (HHFKA), the company actively embraced the Act's changes to the National School Lunch Program and has successfully led each of its NSLP client schools through the certification process, without sacrificing profitability or student participation. For more information, visit http://www.NutriStudentsK-12.com or call toll-free 844-204.2847.
###