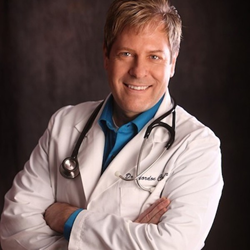 You wouldn't try to interpret your own blood work or MRI, so why would you try to interpret your own DNA?
Orlando, FL (PRWEB) May 11, 2015
At-home genetic testing is building toward a craze, as evidence mounts that genes or mutations can affect individuals' risk for certain diseases. DNA kits can be purchased for less than $100, which gives a "readout" detailing genetic susceptibility to hundreds of diseases.
As the FDA begins to allow consumers to order their own genetic tests, a doctor in Orlando, Florida is waving a red flag. Dr. Gordon Crozier, with Excellent Living Medical Center, believes DNA testing, although highly valuable, should be done only in conjunction with a medical professional.
"The problem with at-home DNA testing is that raw genetic information is hard for a layperson to interpret, " says Crozier. Crozier believes that DNA interpretation should be done with a physician. "You wouldn't try to interpret your own blood work or MRI, so why would you try to interpret your own DNA?," he asks.
Dr. Crozier studies genomics and integrates DNA testing with all his patients. He believes DNA analysis is sparking a revolution in how the medical profession uses genetic information. He also believes that bypassing health professionals, genetic tests are irresponsible at best and potentially dangerous. He says, "Too often patients think their DNA report is a final diagnosis, but when done in association with a doctor, genomic analysis can enable individuals to take appropriate preventive measures or enable diagnoses of a disease early enough for more successful treatment."
Dr. Crozier is finding that a person's response to medications depends, to a great degree, on their genes. For certain medications, links have been established between their effects and an individual's genes. So he uses DNA test results to prescribe the most appropriate medication. Nutritional needs also depend on genes. With a DNA report in hand, he can help a patient identify specific needs and appropriately develop an optimal intake of the most appropriate nutrients.
"DNA testing is still in its infancy, in terms of patient diagnosis and care," says Crozier, "so don't take it all into your own hands. Find a doctor who understands DNA before you take action."