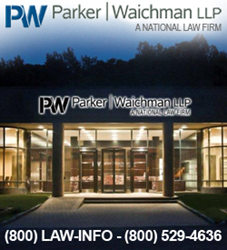 These individuals came to our rescue when we needed them most by risking their lives and health. They deserve to receive aid for treatment of their injuries, including PTSD
Port Washington, New York (PRWEB) April 29, 2015
Parker Waichman LLP, a national personal injury law firm that has spent many years fighting to ensure that the heroes of 9/11 are never forgotten, is commenting on a recent study evaluating the rate of chronic health problems among Emergency Medical Services (EMS) workers who responded to the 9/11 attacks. The study was published April 16, 2015 online in BMJ's journal Occupational & Environment Medicine. The study revealed that, compared to EMS workers who did not work during the attacks, EMS 9/11 responders were seven times more likely to suffer from post-traumatic stress disorders (PTSD) and twice as likely to suffer from depression.
"Our hearts go out to 9/11 responders who suffer from PTSD, depression and many other conditions following the attacks," said Matthew J. McCauley, Senior Litigation Counsel at Parker Waichman LLP. "As a firm that has spent many years dedicated to fighting for the rights of 9/11 heroes, we understand the devastating effects, both physical and psychological, of the attacks and sympathize with these heroes."
The study also found a four-fold increased risk of acid reflux and sinus infections among EMS responders compared to non-responders, that EMS responders were twice as likely to suffer from obstructive airway disease, and that these physical and psychological conditions were the most prominent among EMS responders who arrived at the scene immediately following the attack. Researcher Mayris Webber, who was involved in the study stated, "Our study showed some of the health conditions among EMS workers who were deployed to the World Trade Center recovery site," according to an April 17, 2015 Newsmax report. Webber is with the New York City Fire Department's Bureau of Health Services. "Our findings are part of a pattern of adverse health outcomes found among those who were exposed to the disaster," she added.
"Studies such as these highlight the urgent need to reauthorize the James Zadroga 9/11 Health and Compensation Act," noted Mr. McCauley. The Act provides aid to 9/11 responders and survivors. The Act's two programs, the September 11th Victim Compensation Fund (VCF) and the World Trade Center (WTC) Health Program, provide compensation for 9/11-related injuries and medical treatment and monitoring, respectively. Unless Congress renews the act, the VCF will expire in October 2016 and the WTC Health Program will expire in October 2015, according to Parker Waichman.
"Renewing the Zadroga Act is crucial to providing support for 9/11 responders and survivors," Mr. McCauley said. "These individuals came to our rescue when we needed them most by risking their lives and health. They deserve to receive aid for treatment of their injuries, including PTSD."
Parker Waichman LLP has actively worked toward passage of the Zadroga Act, which was passed in 2010. The firm's actions include, in part, lobbying efforts and trips to Washington DC that were led by Mr. McCauley, often, along with the firm's clients. Mr. McCauley and Parker Waichman continue to support the Zadroga Act and also continue to support efforts to extend the Act's timeline and its scope.
Parker Waichman LLP, which worked, and continues to fight, alongside Ground Zero first responders, survivors, and their advocates, to help ensure passage of the Zadroga Act and its amendments, vows to continue its efforts to safeguard these heroes and ensure that they receive all of the Zadroga Act compensation they deserve. If you or a loved one are eligible for compensation under the Zadroga Act, and would like assistance with your claim, please visit Parker Waichman's Zadroga Act claims page at yourlawyer.com, or call 1-800-LAW-INFO (1-800-529-4636).