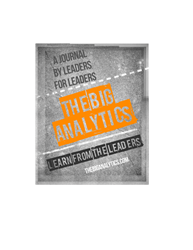 Boston, MA (PRWEB) April 30, 2015
To mark the initiation of Analytics Awareness Week (Announcement: @AnalyticsWeek Launches Analytics Awareness Week July 26-31), AnalyticsWeek is launching a book project. "The Big Analytics" is a collaborative book project realized with the help of analytics leaders, influencers and executives. It will capture the ideas, crux, findings, and best practices on the art of analytics as observed by the big data and analytics leaders, executives, and influencers.
This book is expected to include insights from numerous analytics driven leaders . It will contain the treasure trove of information around tools, talent, technologies and techniques in "The Big Analytics". The book will be released in eBook format during #AnalyticsAwarenessWeek scheduled for July 26-31, 2015.
In order to be included as a contributor to "The Big Analytics" collaborative book project, we recommend signing up using the link: http://pxl.me/aoa-bookw. Public release of the book project is scheduled for May 10th, 2015 and all updates can be found on http://theartofanalytics.org. Please email "[email protected]" if you would like to help spread the word and awareness about the book project or need any further information.
About Analytics Awareness Week
AnalyticsAwarenessWeek is a weeklong event celebrating analytics. It involves virtual gathering of bigdata and analytics enthusiasts, influencers, leaders and executives. In coming years, a week will be dedicated for open dialog on data and analytics, where business, government, organization would be able to come together for a discussion. Our goal is to facilitate awareness of analytics savvy talent, tools, technology, and techniques leading to data driven business.
About AnalyticsWeek
AnalyticsWeek is an All Things Analytics Platform connecting Businesses and Professionals. With online platforms and offline programs, AnalyticsWeek connects data science professionals and businesses around best practices, use cases, latest data analytics trends and cutting edge technologies to help professionals grow quickly in this rapidly evolving world of data science.