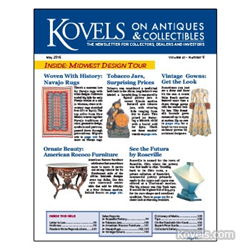 Cleveland, OH (PRWEB) April 30, 2015
Navajo rugs sold at a Montana auction are featured in a sale report in "Kovels on Antiques and Collectibles" May 2015 newsletter. The top-selling rug dazzled at over $4,000. See pictures, descriptions and prices of 20th century Navajo rugs with traditional colors, symbols and patterns that have been passed down through generations. Roseville pottery from the 1930s and '40s was sold at a Cincinnati auction, where the big winner was a vase from the Futura line that brought $15,525. The futuristic pottery with Art Deco-style angles, buttresses and stepped circles is again attracting buyers and Kovels' May newsletter pictures unique examples in striking colors. And glamorous vintage gowns by famous designers sold at auction in Palm Beach. Get the head-to-toe scoop on snagging the couture look for less in Kovels' latest issue.
Kovels' newsletter reports that sometimes "more is more" in a May article on American Rococo furniture. Pricey pieces with intricate carving that sold in New Orleans are pictured with prices, including a rosewood center table with clusters of fruit that brought $86,000. An Illinois auction offered more than 400 tobacco jars from the late 19th and early 20th centuries that sold from $12 to over $400. Figural examples in the shapes of human and animal heads or decorated with small vignettes are found in Kovels' May issue.
Kim Kovel reports on her visit to Midwest museums to see what antiques and collectibles are on exhibit. The popular illustrated Collector's Gallery answers readers' questions about a Hindenburg commemorative envelope, a midcentury plywood chair, an advertising banner for Headlight Overalls and Fenton Blackberry Open Edge carnival glass bowl. The May Dictionary of Marks pictures Depression glass patterns with odd names. And prices of dozens of antiques and collectibles are listed in the Buyer's Price Guide.
"Kovels on Antiques and Collectibles" is available as a print subscription or as a digital version that is part of the Kovels.com Premium subscription.
Terry Kovel is America's foremost authority on antiques and collectibles. She is the well-known columnist and author of more than 100 books on antiques and collecting. With her daughter, Kim Kovel, she co-authors the best-selling annual "Kovels' Antiques and Collectibles Price Guide." The 2015 edition is now available in bookstores and online. They will discuss antiques and collectibles topics with accredited media. Photographs are available. Contact pr(at)kovels(dot)com.
About Kovels.com
Kovels.com, created by Terry Kovel and Kim Kovel, provides collectors and researchers with up-to-date and accurate information on antiques and collectibles. The company was founded in 1953 by Terry Kovel and her late husband, Ralph. Since then, Kovels' Antiques has written some of America's most popular books and articles about antiques, including the best-selling "Kovels' Antiques and Collectibles Price Guide," now in its 47th edition. The website, Kovels.com, online since 1998, offers more than 1 million free prices, and includes a free weekly email, "Kovels Komments." It gives readers a bird's-eye view of the market through the latest news, auction reports, a Marks Dictionary, readers' questions and answers and much more.
Contact Information:
Liz Lillis
216.752.2252
Pr(at)kovels(dot)com