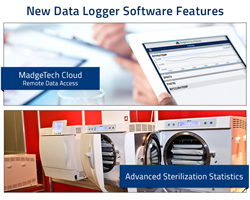 (PRWEB) April 30, 2015
With the recent release of MadgeTech Data Logger Software version 4.2.5.0 (standard) and version 4.2.4.0 (secure), many new features were introduced including the MadgeTech Cloud functionality.
With each software revision MadgeTech strives to improve upon the user experience and further streamline the data collection and analysis process. In this release, features have been added that include more sterilization validation statistics, remote data access, expanded alarm rule management and more.
Advanced Sterilization Calculations
The MadgeTech Data Logger Software now offers over 30 custom options for advanced statistic calculations. In this release, for use in monitoring depyrogenation, or dry heat sterilization cycles, the MadgeTech Data Logger Software has included the Fh and Fd calculations needed for cycle validation.
From the top navigation ribbon, simple click the Generate icon within the statistics section to display the Statistics Summary Report. From the summary view click the "+" sign in the Statistics column header to add and remove the statistic options desired.
The MadgeTech Data Logger Software also provides Pasteurization Units (PU), as well as F0 and A0 calculations for steam sterilization cycles, making this new release the ideal sterilization data reporting tool.
Fh – calculation used for dry heat sterilization
Fd – calculation used for depyrogenation
F0 – calculation used for steam sterilization
A0 – calculation used for lower heat steam sterilization
PU – calculation used for pasteurization
MadgeTech Cloud Compatibility
The MadgeTech Data Logger Software 4.2.5.0 has built in compatibility with MadgeTech Cloud Services giving users instant remote access to temperature, humidity and pressure data. In the MadgeTech software interface, the top navigation ribbon now features three new buttons to enable or disable cloud monitoring and view the cloud data in a web browser. Using these new features, compatible wireless data loggers can be connected to the cloud to allow remote data monitoring from any internet enabled device in just minutes. Visit http://www.madgetech.com/cloud for more details and to take advantage of the 30 day free trial.
Alarm Rule Duplication
Once an alarm rule has been created within the MadgeTech Data Logger Software, users can now duplicate the alarm to apply to other loggers. This feature is time saving and efficient when configuring multiple loggers to use the same alarm settings. This provides better control over consistent threshold notifications when managing many data loggers.
Summary Report and Datasets
Now when a user views statistics in the summary view, the dataset information is also displayed. This feature also allows that information to be printed which allows the user to have a complete analysis of the cycle with relevant statistics all within one document.
With more regulations being imposed across a multitude of industries, data logging is a necessity. MadgeTech continues to engineer data logger systems and data logger software features to deliver quality products for accurate monitoring and the tools to simplify compliance needs.
For more information, or to download the latest software for free, click here.