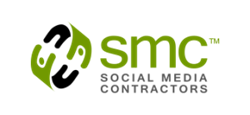 Christiansen McCain did a fantastic job responding to our requests and put together a sharp, responsive site. We can't wait to see what our customers have to say.
Omaha, Nebraska (PRWEB) May 05, 2015
SMC, a leader in content marketing and daily social media management, is inviting visitors to explore its new website, http://www.socialmediacontractors.com, recently designed and developed by Christiansen McCain. The new website has been designed to provide the ultimate user-friendly experience with improved navigation and functionality throughout, allowing customers to access detailed service information and videos with the option to share information across all major social networking sites.
The responsive website will enhance the search traffic with Google's new algorithm change. The site includes information to help customers understand SMC's range of strategic content marketing solutions. Technical data, videos, and case studies work together to provide a detailed overview of Social Media Contractors' capabilities across a wide range of sectors.
"We're very excited about the launch of our new website. It really gives a sense of who we are, and we can say now that a site overhaul was long overdue," said Kris Kluver, founder of Social Media Contractors. "The fact that we can track a better ROI for clients with our new integrated tracking system, and focus on results sets us apart."
Created with user experience and results for SMC firmly in mind, the website has been designed using the latest technology so the site is compatible with today's browsers and mobile devices.
"With our new pages overviewing services, results, our team, and more, we're confident that potential clients can now see the whole picture about who we are and what we do. Christiansen McCain did a fantastic job responding to our requests and put together a sharp, responsive site. We can't wait to see what our customers have to say," Kluver added.
In addition, enhanced results and blog sections help to make SMC's vast knowledge of content marketing and other services easy to browse. The blog section contains constantly evolving industry and company information while white papers and case studies are now available through a new results section.
The new website means that customers can now benefit from richer online content that is easier to navigate and share with others, assisting the marketing process. This is a result of talking with customers and gaining valuable feedback.
On the SMC website, visitors can also stay informed with the latest news about the company, and the social media and content marketing world. The blogs section features over 700 blogs with analytics, announcements, social media and content marketing trends, and opinion pieces from industry experts.
Furthermore, the new website allows users to share content and pages that interest them with others across Facebook, Twitter, LinkedIn, and Google+.
About SMC
Social Media Contractors LLC (SMC) is a content marketing and social media management firm serving clients from Silicon Valley to New York City. Built around focused strategy, premium content, and daily management, SMC helps organizations adapt and engage in today's ever-evolving landscape. Quality people. Quality communication. That's what SMC is about. For more information, visit http://www.socialmediacontractors.com.
About Christiansen McCain
Christiansen McCain LLC, a full service strategic marketing, advertising and interactive agency. Founded in 1998, we serve local and regional clients, as well as Fortune 500 companies. Areas of expertise are agriculture, healthcare, heavy equipment, home accessory and sports apparel. CM thinks like a CMO and executes results-driven tactics on levels that other agencies can't match. Since the beginning, our goal has been to become our clients' marketing right arm and truly understand what makes their customers tick. For more information, visit http://www.christiansenmccain.com.