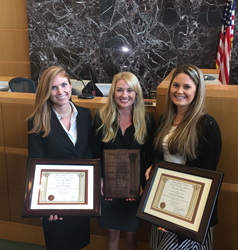 GULFPORT, Fla. (PRWEB) April 29, 2015
Stetson University College of Law student Rebecca Watts won the Law Student Pro Bono Award and students Tamara Major and Kelly Green received honorable mention from Florida's Sixth Judicial Circuit for their commitment to creating pro bono service opportunities for students at Stetson.
Watts was nominated by the Community Law Program for her extraordinary pro bono service.
The students were honored during the 2015 Sixth Judicial Circuit Pro Bono Awards ceremony at the Pinellas County Justice Center on April 17. The Sixth Circuit Pro Bono Committee recognized exemplary attorneys, law firms, paralegals and law students who gave time to serve others in the community.
The awards recognized a Pinellas or West Pasco County lawyer, law firm, paralegal or law student who made significant contributions of pro bono legal services to poor individuals or to charitable organizations who provide non‐legal assistance to the poor.
Created by the Florida Supreme Court, the Sixth Judicial Circuit Pro Bono Committee oversees pro bono service to the poor.
Stetson was the first law school in the state to require pro bono service of its students and faculty and one of the first law schools in the country to establish a pro bono service requirement for graduation. Stetson Law students donated 31,719 service hours in 2013-14.
Stetson Law has been nationally recognized for its emphasis on public interest, and is ranked #7 on the Super Lawyers list of the Top 10 Law Schools for Pro Bono Graduation Requirements.
###
About Stetson University College of Law
Stetson University College of Law, Florida's first law school, has prepared lawyers and leaders since 1900. Today, Stetson leads the nation in blending legal doctrine with practical training, evidenced by its top-ranked programs in advocacy and legal writing. Through our academically rigorous curriculum and commitment to social responsibility, Stetson lawyers are ethical advocates ready to succeed in the legal profession.