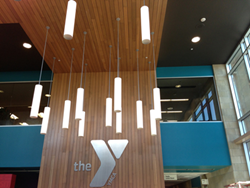 Milwaukee, WI (PRWEB) April 29, 2015
Sequence... Reimagined.
Visa Lighting introduces a new LED platform for its popular Sequence Family. Perfect for large venue applications, Sequence LED is offered in three color temperatures from 3000K to 4000K, 0-10V dimmable, and RGB. "Offering one of Visa Lighting's most popular fixtures with our own LED platform provides that next level of quality to our customers," says Cindy Vera-RedDoor, VP of Sales & Marketing.
With up to a 400% improvement in light output, the Sequence LED is not only energy efficient, but also provides practical white light while maintaining a uniformly illuminated body. This improvement was achieved without having to increase the price on every model. An optional, integral, white LED downlight is also available.
Another exciting new feature is the innovative White plus RGB, available in the larger models. This provides the ability to control both white and RGB within the same unit. The white body and downlight sources include 0-10V dimming capability, the RGB source includes DMX-512 control capability.
Lobbies, atriums, 2-story corridors, auditoriums and multi-volume spaces are just a few of the suggested applications for the new Sequence LED. And to help keep your projects on schedule, we can now ship the mounting assemblies for the Sequence LED ahead of time.
About Visa Lighting:
Located in Milwaukee, Wis., Visa Lighting products are manufactured and assembled in the United States. The most recognized U.S. brand in performance decorative lighting, Visa Lighting creates the highest quality, most innovative products available to the lighting industry. We provide tangible value in our products to the customer, support continual improvement opportunities for our workforce and demonstrate commitment to community measured by our stewardship of the environment and promotion of social responsibility. Visa Lighting is an Oldenburg Group company.