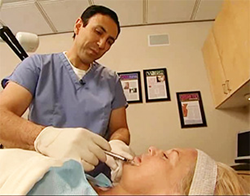 Los Angeles, CA (PRWEB) April 30, 2015
On April 16, 2015, the Food & Drug Administration issued a statement titled "Counterfeit Version of Botox Found in the United States," that details the sale of the fake product by an unlicensed supplier to physicians' offices nationwide. The FDA considers these products unsafe for use as it cannot confirm that its manufacture and handling meets U.S. regulations standards. (see: goo.gl/nK3WFE)
"Unfortunately this is not the first such warning about counterfeit Botox," says Dr. Simon Ourian, Medical Director of Epione Beverly Hills. "We regularly receive and reject unsolicited offers from companies selling discount 'Botox' and dermal filler injectables. The legitimate versions of these products are only available from the manufacturer. It's difficult for me to imagine a scenario in which a physician might mistakenly purchase these counterfeit products in good faith."
According to the FDA report, both the vial and outer carton of the questionable product are counterfeit. The FDA noted that only authentic Botox manufactured in the U.S. by Allergan is considered safe and effective for its approved uses. The product is not FDA approved for sale in the U.S. even when legally manufactured in foreign countries.
"Once again consumers have no choice but to protect themselves from potentially unscrupulous practitioners," says Dr. Ourian. "To assist anyone interested in getting a Botox treatment, I created a six-point checklist for choosing a provider. It is vital that patients fully appreciate that Botox is a medical treatment that should only be received in a medical office and performed by a licensed health care practitioner."
Dr. Ourian has been a pioneer in laser technology and non-invasive aesthetic procedures including UltraShape, VelaShape, Restylane, Juvéderm, Radiesse, Sculptra, and CoolSculpting. These treatments are used for the correction or reversal of a variety of conditions such as acne, acne scars, skin discoloration, wrinkles, unwanted fat, stretch marks, varicose veins, cellulite, and others. More information about cosmetic surgery can be found on Epione's website.