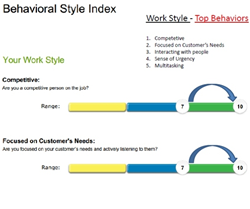 Our advanced assessment technology allows organizations to understand the talents of individuals and teams, as well as help companies make better hiring decisions by comparing candidates to key success factors needed to be a superior performer.
Phoenix, AZ (PRWEB) May 12, 2015
Spectrum Assessments International recently unveiled the results of a benchmark study they conducted at Howard Hanna Real Estate Services (the 4th largest real estate company in the United States), to specifically understand what it takes for a Real Estate Sales Agent to be a superior performer. Their advanced technology and evaluation systems isolated the most effective Behaviors, Motivating Factors and Soft Skills identifying what it takes to be a top Real Estate Agent. Their analytic tools work for existing and prospective team members for all Real Estate organizations.
WHAT THE STUDY IDENTIFIED ABOUT TOP REAL ESTATE AGENTS
Top Real Estate Agent Soft Skills:
1. Planning and Organizing
2. Conceptual Thinking
3. Resiliency
4. Continuous Learning
5. Self-management
6. Teamwork
7. Concentration
8. Goal Achievement
9. Flexibility
10. Results Orientation
11. Personal Accountability
12. Practical Problem Solving Ability
Top Real Estate Agent Motivating Factors:
1. Return on Investment:
Preference–Making Money
2. Leadership:
Preference–Being the best
3. Peace and Harmony:
Preference–Balanced work life
Top Real Estate Agent Behaviors:
1. Competitive
2. Frequently Interacting with People
3. Focused on People's Needs
4. Sense of Urgency
Spectrum Assessments International offers Assessment Systems for Real Estate Agencies to compare their agents to the benchmark of the best Real Estate sales performers. This allows agencies to identify and pinpoint areas for personal/professional development for each agent as well as the Real Estate team. In addition, Spectrum claims that while selecting new Real Estate Agents, candidates with similar qualities of superior performers can be selected with precision. This enables faster Real Estate Agent on-boarding and the ability to integrate new hires quicker, as well as reducing training and development program expenses.
Spectrum has been benchmarking and identifying superior performers in business, sales, leadership, customer service, healthcare and sports for years. They also offer customized assessment services and consulting in areas of selection, change management, and personal development.
For more information on the results of this study, the services of Spectrum Assessments International, and to compare your sales team to the benchmark of the best Real Estate Sales Performers, please visit http://www.spectrumassessments.com or contact Daniel Flynn at dflynn(at)spectrumassessments(dot)com.