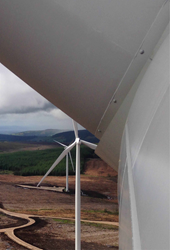 (PRWEB UK) 30 April 2015
At this week's 12th annual IJ Global EREIF event in St Andrews, event sponsor Natural Power is set to launch a new suite of tools and services to support and advise the industry on optimising asset yields for wind farms
Neil Douglas, Director of Asset Management at Natural Power, will be making a keynote presentation on the topic. He said: "The renewables industry is fast evolving and existing models of operational asset management are becoming outdated. The opportunity exists to run smarter operational and maintenance programs, and yields can be maximised through a more integrated, pro-active approach – reshaping the dynamics between parties."
Natural Power's aptly named 'Advanced Performance Engineering' will deliver:

Turbine and component inspections and integrity review services
Turbine performance bench-marking, analysis and improvement
Turbine reliability and optimisation advice
Monitoring of wind speeds and flow conditions using ground and turbine lidar technology
Engineering solutions, turbine set-up optimisation
A fully customisable approach – working in partnership to deliver solutions
Management and integration of the entire process – from first steps to remedy and ongoing monitoring
ERIEF 2015 brings together some of the best and brightest minds in the renewable energy industry to discuss implications and opportunities for future projects in light of updated policy announcements with insights from Fergus Ewing, Minister for Energy, Enterprise and Tourism and Gerassimos Thoma, Deputy Director General, European Commission.
Natural Power's Director of Due Diligence, Giles Dearden, will also be chairing a panel discussion on Contracts for Difference (CfD) – 'A view from the other side of the CfD auction'. The session will explore the results of the auction of the first allocations of contracts for difference. The panel includes representation from across the industry to bring interesting and lively debate to the topic.
The 12th annual IJ Global European Renewable Energy Investment Forum takes place from 29th – 30th April 2015 at The Old Course Hotel, St Andrews, Scotland.
Visit ijglobal.com/forum/ereif/home for more information.
ENDS
Notes to editors
Natural Power
Natural Power is an independent renewable energy consultancy and products provider with over two decades of unique industry expertise. It provides planning and development, ecology and hydrology, environmental technical consultancy, construction and geotechnical, asset management and due diligence services for onshore wind, offshore wind, wave, tidal and biomass sectors.
Natural Power has delivered due diligence services on over 6GW of transactions for some of the world's largest energy providers and finance houses, consented almost 3.5 GW of wind power plant, provided energy yield analysis on over 40GW of capacity, constructed over 2GW of sites and provided asset management services on around 3GW, across 150 sites globally. Now in its 20th year, the company has 15 offices worldwide and employs more than 300 renewable energy experts.
Neil Douglas, Director of Asset Management, Natural Power:
Neil has been involved in the wind energy industry for 20 years, and has been with Natural Power since its inception in 1996. His specialist knowledge covers technical due diligence for project financing and acquisition, wind farm operational management, wind farm design and energy resource assessment, complex flow risk analysis for wind farms, offshore wind and marine energy resource modelling.
Neil holds an undergraduate degree in Mechanical Engineering from Glasgow Caledonian University, and a post-graduate Masters degree in Energy Systems from the University of Strathclyde. He has previously participated in the TP Wind European Wind Energy Technology Platform, EWEC Technical Selection Committee, and the Renewable UK Wind Resource Group.
Giles Dearden, Director of Due Diligence, Natural Power:
Giles is a qualified Chartered Surveyor with over 20 years' experience of land development, portfolio management and M&A, and with the last 14 years dedicated solely to renewable energy at Natural Power. His specialist knowledge covers development and planning strategy and due diligence consultancy in the primary and secondary M&A markets for client equity and debt funders, sellers and purchasers of sites and portfolios in the UK and overseas. He presently sits on the Renewable UK Onshore Strategy Group and has previously participated in the Scottish Renewables Forum and RICS Sustainability working groups.
Neil Douglas and Giles Dearden will be available for interviews and comment.
This information, interview set-up and further details from Catriona Coan
T: 01786 542940
E: catrionac(at)naturalpower(dot)com