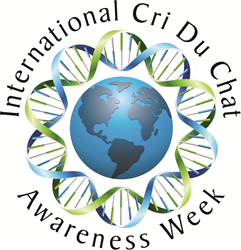 "One of the goals of the 5p- Society is to end the outdated misinformation given to families when their child is diagnosed. Even living in the digital age, most people have not heard of the syndrome"
Lakewood, CA (PRWEB) April 30, 2015
May 3-9, 2015 is Cri Du Chat Syndrome Awareness Week
May 5 Officially Designated As Cri Du Chat Day in the United States by Disabled World
The 5p- Society of North America, along with support organizations from Algeria, Argentina, Australia, Austria, Belize, Belgium, Bosnia & Herzegovina, Brazil, Bulgaria, Canada, Chile, China, Colombia, Costa Rica, Cuba, Denmark, Ecuador, Egypt, El Salvador, Finland, France, Germany, Greece, Hungary, Iceland, India, Ireland, Israel, Italy, Japan, Kazakhstan, Lebanon, Malta, Mexico, the Netherlands, New Zealand, Northern Ireland, Palestine, Panama, Peru, the Philippines, Poland, Portugal, Puerto Rico, Qatar, Russia, Scotland, Serbia, Singapore, Slovakia, South Africa, South Korea, Spain, Sweden, Switzerland, Thailand, Trinidad & Tobago, Turkey, the United Kingdom and Venezuela are proud to announce that May 3-9, 2015 will be designated as Cri Du Chat Syndrome Awareness Week.
"Individuals with Cri du Chat Syndrome (CdCS) deserve to be recognized for what they CAN do versus what they cannot do. It is the hope of the 5p- Society to raise awareness of this syndrome by spreading this message to the world, "said Nick Wallace, 5p- Society Vice President and Chairperson of the Awareness Week. A video was produce in conjunction with the 50th Anniversary of the diagnosis of the syndrome in 2013 that depicts what they CAN do (https://www.youtube.com/watch?v=2AEvN0-6M6I).
"One of the goals of the 5p- Society is to end the outdated misinformation given to families when their child is diagnosed. Even living in the digital age, most people have not heard of the syndrome" Laura Castillo, Executive Director, 5p- Society. "Individuals with Cri du Chat Syndrome are Super Heroes and strive to be the best that they can be despite their limitations."
In an ongoing effort to raise awareness, members and supporters are encouraged to participate in events throughout the week.

Stripy Sock Campaign: Wear striped socks, one long, one short, representing the whole and deleted fifth chromosomes, especially on May 5th.
Inaugural Virtual 5k for 5p-, to raise awareness and money for programs that benefit the Cri du Chat Syndrome community. What is a Virtual 5k? Activities can be developed by local families and can include activities such as an in-person walking (individual, family or teams), or an event on a specific day, asking friends and family to make a pledge, or even a car wash, bake sale or 5p- Pie Challenge. A Virtual Walk can be anything you want it to be!! Over 20 "Teams" have been created all over the world.
Events scheduled for the week:
May 3 -Northern California – Danville – Mya's 5k for 5p-
May 3 – Southern California – Lakewood – Katie's 5k for 5p-
May 3 – Maryland – Brandywine - 5k Walk - Walking to Bring Awareness to Cri du Chat Syndrome
May 6 – Ohio – Beavercreek - Walk with Team Taylor Towers
May 8 – Ohio – Bellefontaine – Walk with Allie Wallace's Winded Walkers
May 9 – Illinois – New Lennox - 5k+ for 5p- Family Fun Event
May 9 – New York – Brooklyn - Cri du Chat Syndrome Benefit in honor of Giovanna
May 9 – Northern California – Windsor - Paella for 5p Minus in Honor of Giselle Rocha
May 9 – Wisconsin – Milwaukee - Team Bree's 5k for 5p-
May 16 – Ohio – Springfield - Shamrock Fun Run to benefit the 5p- Society
For more information about additional events visit http://www.fivepminus.org/Virtual_5k_info or http://www.criduchat.org
About Cri du Chat Syndrome: Discovered in 1963, Cri du Chat Syndrome (CdCS), is a rare genetic disorder that is caused by a permanent deletion of a portion of the "P" arm of the 5th Chromosome (5p-). Each year in the United States, approximately 50-60 children are born with 5p- Syndrome. 5p- Syndrome is characterized at birth by a high pitched, "cat-like cry" caused by an underdeveloped larynx and weak breath support. Other characteristics include low birth weight, poor muscle tone, microcephaly and potential medical complications. The severity of the disorder varies among individuals and can be considered a spectrum disorder. Symptoms go from mild and unnoticed which causes a delay in diagnosis to severe where the individual requires to be cared for 24/7 and will require ongoing support from a team of parents, therapists, medical professionals, educational professionals and extended family members to help the individual achieve his or her maximum potential
About the 5p- Society: The 5p- Society was founded in 1986. It is a non-profit organization that works to empower families with knowledge about the syndrome, facilitate connections, support research, advocate for improved prognosis and to enrich the lives of individuals affected by Cri du Chat Syndrome and their families. The 5p- Society is dedicated to raising awareness about Cri du Chat Syndrome through education, support for CdCS families, and supporting research.
Visit us on the web at http://www.fivepminus.org, @5pminus, #stripysocks #criduchatawareness, #5kfor5p #CDCS #5pminus