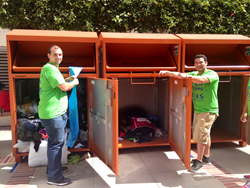 "We are thrilled that both campuses have pledged sustainable move outs again this year," says Chris Christensen, a Nashville resident and Community Recycling Advocate for ATRS, "This is a great example of green minded collaboration in our community."
Nashville, TN (PRWEB) April 29, 2015
As college students around Music City prepare to exit campus residences this month, they leave behind their adopted second homes and face a unique dilemma – what to do with all that stuff! These notoriously crammed spaces hold a surprising amount of clothing, sporting gear, event tees and enough personal care items to star in an episode of Hoarders.
Two Nashville universities have pledged cleaner, greener dorm room move outs this semester and joined the campaign to Move2Recycle. In partnership with local business American Textile Recycling Service (ATRS), Tennessee State University and Vanderbilt are encouraging students, both graduating and returning, to properly dispose of unwanted items as they struggle to sort, store or ship their belongings for the summer.
ATRS Clothing & Shoe Recyclers are conveniently located on both campuses near residence halls so students can recycle gently used or unwanted clothing, shoes, bedding, towels and other dorm room textiles as they pack up to move. Every pound collected from both campuses will be weighed for reuse, redistribution or recycling and generate funding for the local chapter of Mothers Against Drunk Driving (MADD).
"We are thrilled that both campuses have pledged sustainable move outs again this year," says Chris Christensen, a Nashville resident and Community Recycling Advocate for ATRS, "This is a great example of green minded collaboration in our community."
With 1.8 million students projected to graduate in the 2014-15 school year, Move2Recycle is a great opportunity for universities to meet sustainability objectives, while taking philanthropic action in the local community and cultivating a new generation of environmental stewards in the process! In 2014 the campaign diverted approximately 6,000 lbs. of apparel, shoes and other miscellaneous dorm room textiles from Nashville area landfill. This year new records for pounds collected are anticipated, ensuring a lighter carbon footprint in Music City as these temporary residents exit for the summer.
To learn more about the Move2Recycle Campaign or support year-round textile recycling solutions in the Nashville area, please visit the Move2Recycle Page.
American Textile Recycling Service (ATRS) is the nation's fastest growing textile recycler. Its socially responsible business model provides free textile recycling solutions for the public, job stimulation worldwide and much-needed funding for worthy local charities. Easy, convenient ATRS Recyclers are available throughout Tennessee, Atlanta, Orlando, Phoenix, Scottsdale, Tempe and Tucson AZ, San Antonio, Austin, Dallas, Houston, Galveston and Beaumont TX, Michigan, Oklahoma, Colorado and Southern California. For press inquires contact PR(at)atrsonline(dot)com.