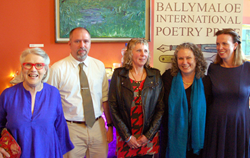 I loved meeting other poets, who are all very accomplished and beautiful writers. It was really one of the loveliest things I have ever been a part of.
Taylorsville, Utah (PRWEB) May 01, 2015
When Salt Lake Community College's Lisa Bickmore found out in February her poem "Eidolon" was a finalist in the Ballymaloe International Poetry contest, she swiftly nixed indecision on whether she'd be able to make the trip to Ireland, "…because how many times am I going to be shortlisted for an international poetry prize?" she asked herself. While in Dublin she found out she won the top prize, which netted her more than $10,000, one of the biggest purses in the world for a single unpublished poem.
"The evening of the event was quite amazing to me," said Bickmore, who made the trip last week with husband and SLCC Dean of the School of Humanities and Social Sciences John McCormick. "I wondered who in the world would come to an event like this, but it turned out that lots of people did, including press people and people who love poetry. The rooms were filled. I loved meeting other poets, who are all very accomplished and beautiful writers. It was really one of the loveliest things I have ever been a part of."
An associate professor of writing at SLCC, Bickmore said one "geeky" use for the prize money will be to purchase a new field microphone to make "awesome" audio compositions. "I told my husband that I was going to have to calm down first before I decide," she said. The Ballymaloe competition is sponsored by the Irish literary magazine The Moth and is funded by world-renown Ballymaloe Cookery School founder Darina Allen, author of more than 10 cookbooks. About 2,000 poets submitted almost 3,000 poems for the Ballymaloe contest.
Bickmore wrote "Eidolon" during a 2008-2009 sabbatical and wanted to draw from her life in faith and life as a mother. "It also has to do with the connection between faith, the will and grief," she said. "'Eidolon' means both 'a ghost' and 'an ideal', which was such an evocative word, it seemed especially apt for the poem." The 700-plus word poem, reprinted in the Irish Times, begins, "The pop of the disconnect I feel as a point in space:/what were the words he said, my son,/in the language he's learning? The ghost of his silence,/even that will not be there when the dial tone finishes,/after he's asked the question I could not bring myself/to answer: are you willing? Words that echo here/in the American dark: I take my stick,/write in the dirt in a language only I speak,/which I refuse to explain. If he were here, I would show him:/I collect photographs of altars though I worship at none."
The 2013 SLCC Distinguished Faculty Lecturer couldn't be sure whether it was the subject matter or the relief that came with finally getting out a draft after an "intimidating" process of writing the poem, but she shed a few tears. "Every poet I know hates the competition aspect of trying to get work published, but one of the best things for me about this process and meeting the poets and reading their work was that, for at least this moment, I'm not worried about whether my work is good enough or worthy enough to be sending around," Bickmore said. "I am so very happy that the poem is published. It's a longish poem, and I sometimes wondered if I would find a place for it. Now it has a place in The Moth, and I am overjoyed about that." One of the competition's judges said Bickmore's piece was "a finely made poem" with a voice that "remains limber and feels capable of taking you anywhere."
Salt Lake Community College is an accredited, student-focused, urban college meeting the diverse needs of the Salt Lake community. Home to more than 60,000 students each year, the College is Utah's leading provider of workforce development programs. SLCC is also the largest supplier of transfer students to Utah's four-year institutions and a perennial Top 10 college nationally for total associate degrees awarded. The College is the sole provider of applied technology courses in the Salt Lake area, with multiple locations, an eCampus, and nearly 1,000 continuing education sites located throughout the Salt Lake Valley. Personal attention from an excellent faculty is paramount at the College, which maintains an average class size of 20.