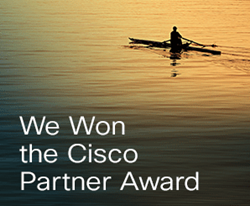 This recognition validates the success of ShoreGroup's service approach
NEW YORK, NY (PRWEB) April 30, 2015
ShoreGroup today announced that it is the recipient of the Cisco Architectural Excellence in Enterprise Networking award for the United States East theater. Cisco unveiled award winners at a global awards reception held during its annual Partner Summit taking place this week in Montreal.
Cisco Partner Summit awards are designed to recognize the top-performing channel partners who demonstrate best-in-class business practices and serve as a model to the industry. Areas of consideration include innovative practices, application successes, unique programs, problem solving and sales approaches. Award recipients are selected by a group of Cisco Worldwide Partner Organization and regional executives.
"We're honored to be selected as the recipient of the Architectural Excellence in Enterprise Networking award from Cisco," said Robert Ditta, Executive Vice President at ShoreGroup. "This recognition validates the success of ShoreGroup's service approach, which transforms Cisco's technologies and applications into leading solutions that customers leverage to innovate and grow their business."
About ShoreGroup
ShoreGroup is the globally recognized managed services company helping customers achieve their strategic goals by empowering IT operations. Our service approach enables customers to leverage ShoreGroup's expert knowledge and comprehensive patented management technology to create and ensure the optimal success of their vital unified communications, collaboration, contact center, virtualized data center and network assets.
Our customers are major enterprises, cloud and hosted solution providers, medium to large businesses and government agencies that rely on ShoreGroup's service solutions to realize their business objectives for reduced IT operational costs, service assurance, improved availability and performance, and increased customer satisfaction. ShoreGroup's innovative services are delivered directly or through leading channel partners who recognize that ShoreGroup has the best in class service and management technology in the industry.
Additional information about ShoreGroup's products and services can be found at http://www.shoregroup.com.
April 30, 2015
FOR: ShoreGroup, Inc.
CONTACT: Glenn Yeeles
ShoreGroup, Inc.
460 West 35th Street
New York, NY 10001
212-364-6800 x7471
ShoreGroup® is a registered trademark of ShoreGroup, Inc. Cisco and Cisco Systems are registered trademarks of Cisco Systems, Inc. in the U.S. and certain other countries. All other marks are property of their respective owners.