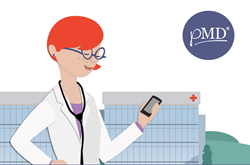 Capturing and reporting on PQRS data is more important than ever this year
San Francisco, CA (PRWEB) April 30, 2015
pMD, the leading innovator in mobile charge capture and physician communication, has announced its commitment to become a qualified Physician Quality Reporting System (PQRS) registry for 2016. pMD has built-in PQRS functionality in its charge capture software and is continuing to create effective solutions to government regulations for physicians and their practices.
PQRS is a health care quality improvement initiative established by the federal agency Centers for Medicare & Medicaid Services (CMS), and requires eligible medical professionals to report on a set of quality measures. As a qualified registry, pMD will provide medical practices with a comprehensive PQRS software solution so they can successfully capture and report on measures while avoiding the risk of payment penalties.
"Capturing and reporting on PQRS data is more important than ever this year," pMD CEO Philippe d'Offay said. "We have enhanced and expanded our PQRS functionality to include direct registry submission through pMD. pMD's charge capture software is an incredibly easy and reliable way for medical organizations to report on PQRS, protecting their revenue from government penalties and improving patient care."
pMD, whose mobile charge capture app allows physicians to enter their medical billing charges into their smartphones and send text messages securely, has worked with many groups to record PQRS data.
"An important feature of pMD is its ability to integrate PQRS claims reporting into the charge capture process," said Dr. Davies Wong, a pulmonary and critical care specialist with Sharp HealthCare in San Diego, California. "The PQRS prompts remind the doctor to report on a particular PQRS measure and to take appropriate corrective action if needed to be compliant with the quality measures. We would not be able to do claims-based PQRS reporting without pMD."
Some of the most common questions pMD receives from practices about PQRS are listed and answered below.
*How many measures do we need to choose?
CMS specifies that Eligible Professionals (EPs) need to report at least nine clinic quality measures across three National Quality Strategy (NQS) domains of care for at least 50% of the EP's Medicare Part B patients. One of these measures must be a cross-cutting (or broadly applicable) measure. The NQS domains are Effective Clinical Care, Efficiency and Cost Reduction Use of Healthcare Resources, Community, Population and Public Health, Communication and Care Coordination, Patient Safety, and Person and Caregiver-Centered Experience Outcomes.
There are 254 total quality measures available for reporting in 2015, but some measures are only reportable through one or a subset of the possible reporting methods. Selecting a reporting method will decrease the number of measures from which to select; for example, there are 72 measures available for claims-based reporting.
*How do we get PQRS data to CMS?
pMD directly supports claims-based reporting and will soon provide registry services for 2016. Providers can submit PQRS data to CMS via five different methods of reporting: claims-based, registry-based, qualified Electronic Health Record (EHR), Qualified Clinical Data Registry (QCDR), or as a group of providers via the Group Practice Reporting Option (GPRO).
*What are the best measures to choose?
There are a wide variety of measures from which to select, and some are more suited toward certain medical specialties or provider types than others. Some factors to consider when choosing measures are clinical conditions treated, types of care (preventive, chronic, acute) provided, settings where care is usually delivered (office, hospital, emergency room), quality improvement goals for 2015, and any potential overlap with other reporting programs.
For example, Measure #164: Coronary Artery Bypass Graft (CABG): Prolonged Intubation is applicable to cardiologists, while Measure #336: Maternity Care: Post-Partum Follow-Up and Care Coordination might be more relevant to an obstetrician or primary care provider.
Cross-cutting measures, such as Measure #46: Medication Reconciliation and Measure #128: Body Mass Index (BMI) Screening and Follow-Up Plan are intended to be applicable to a wider range of providers.
*Do I have to capture PQRS data for all nine measures for every patient I see?
No. PQRS only applies to patients with Medicare Part B insurance. Additionally, each individual measure has specific criteria to determine if a patient should be included in the denominator for that measure calculation. These criteria include diagnoses, previous or current patient encounters, gender, and age. In the example of Measure #46 above, only patients who were discharged from the hospital in the current reporting period would qualify for this measure. For measure #164, only patients who underwent a CABG procedure in the reporting year would be included.
About pMD
pMD's mobile charge capture, secure messaging, care coordination, mobile EHR, and HIE services support doctors across multiple specialties and improve patient care. Doctors use pMD to enter their billing charges into Android, iPhone, iPad, and iPad Mini devices at the point of patient care. pMD increases efficiency and security in a practice through automation and secure, HIPAA-compliant text messaging. Doctors using charge capture are increasing their ROI in a time where Medicare cuts, ICD-10, PQRS, and other costs are significantly impacting profitability. pMD provides free interfaces with most major electronic medical records, hospital information, and medical billing systems, including Allscripts Pro PM, Allscripts Tiger, athenaCollector by athenahealth, Cerner, eClinicalWorks, Epic, GE Centricity (formerly Millbrook and IDX), MEDITECH, MobileMD, NextGen, and Vitera Intergy (Sage). For more information, visit pmd.com or email sales@pmd.com.