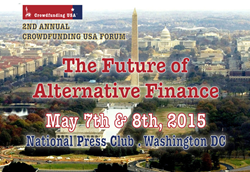 Chicago, IL (PRWEB) April 29, 2015
American Homeowner Preservation ("AHP") Founder and CEO Jorge Newbery will participate in The Future of Alternative Finance, a gathering of 40 industry thought leaders May 7 – 8 in Washington D.C. The event is one stop on the 2015 CrowdFunding World Tour Conference & Expo. The event will be held at the National Press Club and includes a press conference on Friday morning.
This caucus of thought leaders, industry leaders, and policy makers will consider the future of alternative finance. The event will be a first of its kind to consider how changes in finance will affect banking, access to capital, the sharing economy and innovation in the United States. During this roundtable, participants will discuss evolutions in financial markets and the opportunity and threat posed by fintech disruption to traditional financial markets. Further, those gathered will then consider the policy and regulatory concerns affecting the evolution of this market, look at fundamental disruptions including the challenge to bank lending through marketplace lending and the rise of non-fiat currencies. Finally, the group will also address the opportunities for broader access to capital afforded through alternative finance to SMEs.
Service providers, policy makers and financial professionals may contemplate adjustments to their long term strategies in light of these fundamental challenges, and this forum will gather leading thinkers in Washington DC to present the latest information on the evolution of these alternative financial vehicles and markets.
AHP crowdfunds pools of distressed mortgages acquired at significant discounts from lenders and empowers accredited investors to invest online and generate annual returns of 9 – 12%. Mortgages purchased by AHP are typically secured by single family homes and, once purchased, AHP offers affordable payments and discounted principal to families to keep them in their homes. This socially responsible strategy generates above-market returns, as legal fees and other costs necessary to foreclose are often reduced or eliminated.
Other participants joining Newbery include Markley Roderick of Flaster/Greenberg, Amy Wan of Patch of Land, and Kim Kaselionis of Breakaway Funding. American Homeowner Preservation is a socially responsible investment fund manager which empowers accredited investors to purchase equity in pools of distressed mortgages and earn returns of 9-12%. For further information or inquiries please visit https://ahpinvest.com or call 800-555-1055.