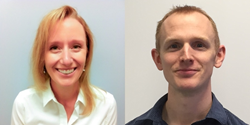 Yorba Linda, CA (PRWEB) April 29, 2015
siRNA-mediated silencing of gene expression has transformed the study of biology by allowing straightforward, unbiased loss-of-function studies to be performed in many cell types. In contrast, siRNA application in difficult-to-transfect cell types (such as primary or suspension cells) proves to be extremely labor-intensive and technically demanding. While lentiviral transduction and electroporation provide transfection alternatives, they can bring about unwanted cell death or viral responses.
A solution to this problem is novel, chemically-modified siRNAs which penetrate difficult-to-transfect cell types, without the use of lipid delivery reagents or electroporation. These siRNAs are available pre-designed for human, mouse, and rat genes in multiple formats, such as libraries for RNAi screening or large quantities for in vivo use.
Dharmacon, part of GE Healthcare Life Sciences, is sponsoring a new educational webinar, "RNAi Success in Difficult-to-Transfect Cells by Self-Delivering siRNA," that will introduce Dharmacon™ Accell™ siRNA. The presentation includes a study performed at Trinity College Dublin, where researchers have screened an Accell siRNA library targeting the expression of 72 distinct genes in conjunction with a High Content Image Analysis platform as a proof-of-principle strategy to identify genes involved in LFA-1-mediated migration in primary human T cells. This work would be challenging to perform in T cells with standard siRNA transfection methods, but is enabled by Accell siRNA. The study shows the ease and benefits of conducting siRNA library screens in primary human T cells using self-delivering Accell siRNAs, and highlights the feasibility and potential of this approach for clarifying the signaling pathways that regulate T cell function.
The presentation will also highlight successful published Accell siRNA results in primary neurons and in vivo brain; and review availability of Accell siRNA tools and associated online resources.
The complementary webinar, hosted by LabRoots, will be presented on May 12, 2015, at 8 am PST/9 am MST/11 am EST.
For full details and free registration, click here.
About Dharmacon
Leveraging expertise in bioinformatics, RNA biology, and synthesis chemistry, the company has developed a complete line of products for the RNAi researcher. Further breakthroughs arose in chemical modifications for siRNA specificity, and novel molecules for microRNA modulation. In 2014, Dharmacon became part of GE Healthcare Life Sciences. For more information visit gelifesciences.com/dharmacon
About LabRoots
LabRoots is the leading scientific social networking website and producer of online educational events and webinars. And we are a powerful advocate in amplifying global networks and communities, and contributing to the advancement of science through content sharing capabilities and encouraging group interactions.
Founded in 2008, LabRoots emphasizes digital innovation in scientific collaboration and learning. We have become a primary source for current scientific news, webinars, virtual conferences and more. Join for free and become part of the largest scientific learning community in the world.