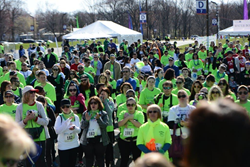 "I think it helps us knowing that my father was able to help so many people," Alexa Sirubi said, daughter of a tissue donor.
NEW PROVIDENCE, NJ (PRWEB) April 29, 2015
The number of people in New Jersey who generously donated tissue after death has risen 68 percent in just three years, reflecting the extraordinary decision of their families to restore health and enhance lives for others.
The gift of one tissue donor can restore health to as many as 50 people. The list of ways that donated tissue can restore health and enhance lives for others is long. Donated skin grafts provide hope for mastectomy reconstruction and healing for burn patients; corneas restore sight; bone grafts can prevent amputations for people with orthopedic cancers. Heart valves can save the lives of people with heart disease.
Statistics, released during April, which is National Donate Life Month, show the 2014 tissue authorization rates have increased 21 percent from 2012.
This increase in the number of families who generously say "yes' to allow their loved ones to give the gift of tissue correlates to the consistent and significant 68 percent increase in tissue donors:

2012: 399donors
2013: 498 donors
2014: 670 donors
NJ Sharing Network is the non-profit, federally designated organ procurement organization responsible for the recovery of organs and tissue in the state. Among other things, the organization credits the marked increase in tissue donation to new resources and training in the Donation Resource Center.
Hospitals in New Jersey are required by law to report every death to NJ Sharing Network. The Donation Resource Center's role is to contact the families of those who meet the criteria for tissue donation, which can take place as long as 24 hours after death.Trained professionals from NJ Sharing Network reach out by telephone to families after the death of a loved one to offer the option of tissue donation.
"Sometimes a person already has registered as a donor on his or her driver's license and the family knows their loved one's wishes. Other times the families will need to make that decision for them. This is not a decision families takes lightly. The purpose of the call is to offer families information so they can make the best decision on behalf of their loved one," said Eric Lanphear, Donation Resources Manager for NJ Sharing Network.
"We try to build trust and learn about the lives of the potential donors and their families. Our staff strives to have meaningful conversations with family members and dispel myths about donation," Lanphear said. "For instance, for some families it's important to know that an open casket is an option and tissue donation will not delay a funeral.
For many families, knowing the legacy of their loved one will live on by helping others can provide some comfort amid their loss."
Lanphear said families that consent to tissue donation will also need to provide additional information similar to the information of a potential blood donor.
Lanphear joined NJ Sharing Network in July of 2014 and worked to bring on additional staff in the Donation Resource Center and implement new processes including specialized training for the Donation Resource team. He said the Donation Resource Center team discuss each case to learn more about the donor and needs of the donor family before the professional makes the call. He attributes the increase in authorization rates to the importance for families to honor their loved ones legacy based on important information provided about tissue donation.
"We are so pleased with what Eric has accomplished. Eric and his team of professionals in the Donation Resource Center work compassionately with families after a loved one has died," said Joe Roth, President and Chief Executive Officer of NJ Sharing Network. "Most important, we are so thankful for the generosity of NJ families who think about helping others even in their time of grief."
Alexa Sirubi of Allendale was just 13 when her father, James, died of a heart attack at the age of 52. The family agreed to donate his tissue. Now 15, the Allendale teen created a team, "The Power of One," to honor her father's legacy of generosity at NJ Sharing Network's 5K Celebration of Life. The event took place at Bergen Community College in Paramus on April 12.
"I think it helps us knowing that my father was able to help so many people," Alexa said. "Now I want to let other people, especially high school students, learn and understand more about this life-saving mission."