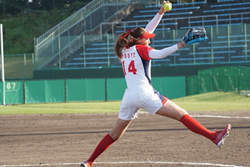 "We are truly honored to have the world's leading pitcher in women's softball wearing Ringor," said Kirk Ihlenburg, CEO.
Wilsonville, OR (PRWEB) April 29, 2015
Monica Abbott, the world's #1 fastpitch softball pitcher, will wear Ringor's innovative, high-performance softball cleats. Abbott, one of the top softball athletes in the world and the outstanding pitcher for the Japanese Pro League since 2009, recently signed for her 8th National Pro Fastpitch season and her 5th season with the Chicago Bandits. Following four record-breaking years at the University of Tennessee, the softball star scored a Silver Medal at the 2008 Beijing Olympics and has consistently led her teams on two continents to repeated league championships.
Abbott stands with a select peer group of unparalleled female athletes over the course of her softball career. Abbott threw the first perfect game in Olympic history, was 2X World Champion and Pan-American Gold Medalist. From the start during her college days, she stood out. She was the first pitcher in NCAA Division I history to record 500 strikeouts in all four years of her collegiate career. She holds NCAA Div. 1 records with 189 wins, 2,400 career strikeouts and 724 single season strikeouts. Abbott finished her college career with a handful of prestigious awards to include the USA Softball Collegiate Player of the Year and the winner of the Honda Award for Top Collegiate Softball Player.
She currently holds the informal fastest pitch record of 77 mph, led her team to four Japan Softball League championships from 2010 – 2014 and was named 3X league MVP. During four years with the Chicago Bandits, Abbott was 2X NPF pitcher of the year and 2X championship MVP.
"We are truly honored to have the world's leading pitcher in women's softball wearing Ringor," said Kirk Ihlenburg, CEO. "Ringor produced its first softball cleats in response to the need for better footwear in the game to improve performance and reduce injuries. In the years since then, we have been dedicated to creating innovative designs that respond to the needs of female fastpitch athletes."
"We will support Monica's continued growth as an ambassador to the sport around the world," said Joelle Fanger, Ringor's Marketing Manager. "Her 'Live 2 Bring It' personal motto has shaped her career and sets an example for future young athletes." Abbott works to empower female athletes with a college scholarship awarded to two graduating high school athletes each year and holds clinics throughout the U.S. with Q & A's and motivational speeches to inspire the next generation of fastpitch stars. Fanger added, "Ringor is known for making the toughest cleats on the market and now we have the toughest pitcher wearing them."
"I'm honored to represent a company that has such a rich history and passion for Softball on and off the field. I am truly excited to be part of the Ringor brand," said Abbott.
Xxx
About RINGOR
RINGOR is a manufacturer of metal and molded women's softball cleats and spikes, softball equipment bags, women's softball performance apparel and turf trainers. The company, headquartered in Wilsonville, Oregon, was founded in 1983. RINGOR is a direct sales company, whose products are sold through its website, phone sales or through RINGOR's Team Sales department. http://www.Ringor.com