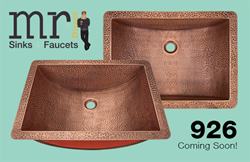 This sink is constructed of copper that is mined, not acquired from recycled materials.
Toledo, OH (PRWEB) April 30, 2015
Copper basins have been a mainstay in the MR Direct line of sinks for many years. Styles vary from rectangular undermounts to traditional apron designs for the kitchen. In the bath, copper bowls are hand-crafted for mounting either on top, under, or upon the vanity as vessels. All MR Direct copper sinks for the bath have been circular in design – until now. Soon, MR Direct will be unveiling its newest copper bathroom sink, the 926, which features a deep, arched, rectangular shape.
Due to the popularity of the U1913 model in MR Direct's porcelain line of bathroom sinks, and the general, ever-growing interest in copper sinks; the MR Direct engineers decided to develop what is very close to being a copper clone of the U1913. Aside from the fact that there is no overflow in the 926, the size and shape of this new model mimics the porcelain U1913.
The 926 copper sink presents itself as a wide rectangular design, with a deep sweeping arch across the breadth of its interior. This is in stark contrast to the front and back interior walls which run vertically from the top to the bottom of the arch. The result is a U-shaped bowl designed to be mounted under the vanity top. Overall, the 926 measures: 20 1/2" x 14 1/2" x 7". The interior space is 18" x 12 1/8" x 6 3/4".
This sink is constructed of copper that is mined, not acquired from recycled materials which could contain other metals and impurities. The finish has the same stunning hand-hammered texture found on most MR Direct copper sinks which adds strength as well as esthetic appeal; and on a practical point, disguises minor dings and scratches.
One of the intriguing features of copper is its relationship with its environment. Over time, oxidation slowly produces a coating on the copper surface known as a patina. The color varies, but is generally a blend of dark browns and greens. This visual effect is usually a major incentive for purchasing a copper bowl, therefore MR Direct does not coat its copper sinks with any lacquers or waxes which can temporarily retard the patina. Copper is also anti-microbial. It is comforting to know that bacteria are destroyed shortly after making contact with the surface.
Visit http://www.MRDirectint.com to get all the specifics on the exciting new 926 model, and all the distinctive copper sink designs, offered by MR Direct.