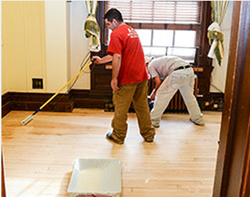 It's unethical and dangerous to knowingly sell flooring with these levels of formaldehyde
Warwick, RI (PRWEB) May 07, 2015
New England-based Ace Wood Flooring today announced its intention of offering up to a $1,000 credit for customers that have fallen victim to alleged unsafe levels of formaldehyde in their laminate flooring. Customers in Rhode Island, Massachusetts, and Connecticut are eligible for the credit, and can visit Ace's showrooms in Warwick, RI and Smithfield, RI, to see samples of flooring.
"Flooring customers shouldn't have to sacrifice their health in order to save on flooring," said Troy Hewes, Ace Wood Flooring's Manager. "As angry as I was to hear about the 60 minutes report , I can't imagine how upset the customers with formaldehyde in their flooring were. Our hope is that this $1,000 credit will make it easier for them to get high-quality, affordable flooring that's safe to install in their homes."
The $1,000 credit is specific to customers concerned about the safety of their laminate/ bamboo flooring. Hewes announced that Ace Wood Flooring will take care of the complete removal and replacement of unsafe laminate/ bamboo flooring, and apply up to a $1,000 rebate on his company's service and installation. Hewes added that customers could also replace their flooring with Ace carpeting, ceramic tile, luxury vinyl tile (LVT), or hardwood flooring, if they're hesitant to invest in laminate/ bamboo again.
This action comes in response to a report by Anderson Cooper, on 60 Minutes, which revealed that laminate flooring manufactured in China contained dangerous levels of formaldehyde, (up to 20 times the amount considered safe by the Environmental Protection Agency) in an effort to reduce costs.
Formaldehyde is a colorless chemical that has been shown to cause chronic respiratory issues, asthma, as well as cancer. It is illegal in California to sell flooring containing these high levels of formaldehyde. The U.S. Congress has modeled a federal bill on California's law, meaning by the end of this year the laminate flooring that 60 Minutes reported on will be illegal to sell throughout the country.
"It's unethical and dangerous to knowingly sell flooring with these levels of formaldehyde," Hewes said. "Customers of Ace Wood Flooring never have to worry about their health when they purchase flooring from us."
All of Ace's flooring is manufactured in the United States, allowing the U.S. Government, Hewes and his team to keep a careful watch over the entire process, from start to finish.
"My customers and I have peace of mind knowing the flooring in their home is safe for their family and is environmentally friendly," stated Hewes.
About Ace Wood Flooring
Ace Wood Flooring has showrooms in Smithfield and Warwick Rhode Island; however, they serve customers throughout Rhode Island, Connecticut, and Southeastern Massachusetts, and provides quality-flooring options for commercial and residential clients. All of Ace's products are environmentally safe, including their wood flooring, which comes from managed growth forests to ensure the adherence to high standards of regulations. Ace has served customers throughout New England since 1967, and offers a complete flooring solution, including refinishing, restoring, and replacing floors.
For more information about Ace Wood Flooring and the $1,000 credit to replace flooring with Formaldehyde, visit http://woodfloorsbyace.com/lumber-liquidators-formaldehyde-flooring-replacement-1000-credit/ or contact Hewes directly at info(at)woodfloorsbyace(dot)com. Rhode Island customers can call (401) 241-3966; MA customers can call either (508) 965-6916 or (617) 955-6099; CT customers can call (860) 942-7112.