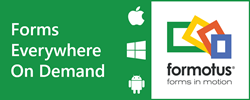 The on-demand forms service we're announcing today is taking forms everywhere. Anyone, anywhere who has downloaded Formotus Now onto their device can use Formotus forms.
Chicago, IL (PRWEB) May 04, 2015
Formotus, an enterprise mobility company, today at Microsoft Ignite announced its expansion into broader markets and demonstrated innovative new technology for widespread distribution of mobile business forms via mobile apps.
The new mobile app, Formotus Now, is available free for iOS and Windows 8 in the app stores, while the Microsoft Azure-based service that brings the app to life is now in a limited beta preview. Visitors to booth #587 at Ignite can see the technology demonstrated live, and invitations to the beta preview can be requested on the Formotus website.
Formotus CEO and co-founder Adriana Neagu was a co-inventor of Microsoft Office InfoPath before leaving Microsoft Corp. to start Formotus in 2005.
"The on-demand forms service we're announcing today is a good example of how we're innovating on forms," said Neagu. "Formotus is taking forms everywhere. Our new on-demand service enables anyone, anywhere who has downloaded the free Formotus Now app onto their tablet or smartphone to use Formotus forms. They can just tap on a link on their device to open a Formotus form, then fill it out and submit it."
"The new Formotus on-demand forms service exemplifies how thick-client applications are giving way to cloud-based services," said Vibhor Kapoor, Director, Microsoft Azure Product Marketing, Microsoft Corp. "Formotus, which was born in the cloud uses Microsoft Azure cloud services to make forms available everywhere in mobile apps."
Forms for SharePoint and Beyond
"Formotus forms add great value to SharePoint both by providing a mobile-first form-filling experience, and by enabling external facing forms to be filled and submitted to SharePoint," concluded Neagu. "But more importantly, Formotus forms are not limited to or dependent on SharePoint in any way. They can be submitted by email, or they can connect to all kinds of back-end systems through web services."
Learn more about Formotus Now and the on-demand forms service on the Formotus blog.
About Formotus
Formotus, founded in 2005 and led by Microsoft InfoPath co-inventor Adriana Neagu, offers the successor to Microsoft Office InfoPath with offline-optimized mobile business forms for companies of any size. The Formotus service delivers custom mobile business form apps that connect workers on Windows 8, Android, and iOS devices to SharePoint and web services. Formotus forms require no coding, and can capture signatures, photos, GPS locations, barcodes and more.