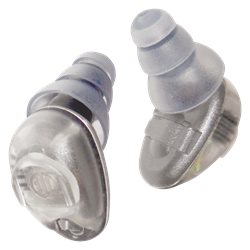 Our goal was to raise awareness among music students and faculty of the importance of protecting their hearing throughout their careers
Elk Grove Village, IL (PRWEB) April 29, 2015
The University of Southern California Thornton School of Music and Etymotic Research, Inc. hosted a seminar and concert on April 16th and 17th as part of a "Musician's Wellness Initiative" at USC's University Park campus. The events, focused on vocal health and hearing wellness, included lectures by specialists from the USC Keck School of Medicine and Mead Killion, Ph.D., founder of Etymotic Research, a hearing health company and audio products manufacturer.
On Thursday, April 16, the USC Thornton Jazz Orchestra performed in a special concert featuring acclaimed drummer and USC Thornton director of Drumset Studies Peter Erskine, and chair of the USC Thornton Studio/Jazz Program guitarist, Frank Potenza. The performance was a tribute to jazz guitarist Wes Montgomery. The event was presented in partnership with Etymotic Research. All performers wore Etymotic's Music•PRO Electronic Earplugs. Music•PRO circuitry automatically changes output levels as sound input levels change.
"Etymotic was honored to participate in such an important first-of-a-kind performance where all of the musicians used hearing protection while playing," said Dr. Killion. "Our goal was to raise awareness among music students and faculty of the importance of protecting their hearing throughout their careers."
The following day featured events focused on vocal health in the morning and hearing wellness in the afternoon. At noon, USC's Thornton School of Music celebrated World Voice Day in partnership with the Keck School of Medicine. The event featured performances that included the USC Thornton Opera Program performing an excerpt from their spring opera, Christoph Willibald von Gluck's Iphigénie en Tauride, and the premiere of two excerpts from Composition student Julia Adolphe's opera, Donia. The event also featured presentations by Keck faculty, including voice specialist Lindsay Reder, M.D. and lung specialist Daniel Oh, M.D.
Following the World Voice Day celebrations, Dr. Killion and auditory researchers from the Keck School participated in a panel discussion on hearing wellness, discussing the latest research in hearing protection and new technology breakthroughs. Students, faculty and a few music students' parents attended this special session.
The Musician's Wellness Initiative took place just weeks after The World Heath Organization released a report saying that more than a billion young people around the world are at risk of losing their hearing, and the news – along with hearing health recommendations including the use of earplugs – went viral.
About Etymotic Research
Etymotic is a research, development and manufacturing company that designs high-fidelity personal audio products and hearing wellness solutions to assess enhance and protect hearing. For over 30 years, innovation and education have been central to Etymotic's mission. Etymotic is one of the most respected leaders in high-fidelity audio and hearing conservation. For more information about Etymotic, its hearing wellness mission and its products, please visit http://www.etymotic.com.
About the USC Thornton School of Music
For more than 125 years, the University of Southern California Thornton School of Music has prepared students to excel as performers, composers, industry leaders and educators on stages and in studios around the world. Founded in 1884 and today the oldest continually operating cultural institution in Los Angeles, USC Thornton is internationally recognized as one of the finest conservatories and music schools in the U.S. By blending the rigors of a traditional conservatory-style education with the benefits of a leading research university, USC Thornton offers a curriculum designed to prepare students for successful careers in the 21st century. For more information, go to music.usc.edu.