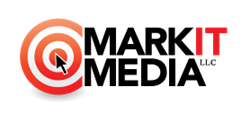 Scottsdale, AZ (PRWEB) April 29, 2015
Markit Media announces the addition of screen printing services to its comprehensive array of marketing support services.
Known for eye-catching graphic design and high-quality printing, Markit Media is now capable of printing any design on t-shirts of all shapes and sizes.
Creating t-shirts with customs logos or artwork used to be a laborious messy process called "silk-screening." With this method, a screen made of silk like material with the image on it was used. Ink was pulled by hand across the screen to be deposited on the fabric material, sometimes having an uneven result.
The newer method is to use highly sophisticated printing systems that deposit the ink, layer by layer, with extreme accuracy. The results from this state-of-art screen printing technology are stupendous. Drawings with greater details are now possible and the results are images on the t-shirts with beautiful clarity and bright colors.
There is a vast array of tens of thousands of stock images to choose from when creating a new design or the design can be 100% unique and original based on newly created artwork. Because the images are printed, the t-shirts can be made in any quantities, from one to thousands, and the finished results will all match perfectly.
Not only can t-shirt printing be done this way, but also many other items can have logos or artwork printed on them, including tote bags, hats, sweatshirts, business wear, cups, mugs, and mouse pads. There is no limit to what can be created in this way. The only limit is the imagination. Want to hand out printed corporate flags at your next event? No problem. Sun shades for the car with a corporate logo on them? Great idea, especially for the hot weather in Scottsdale and Phoenix.
Bring in your own designs or work with the highly qualified design staff at Markit Media and they will help create a design for you. Once clients discover how much fun this is, they start coming up with fantastic ideas for new ways to use screen printing that create items, which makes a unique and dynamic statement about their companies.
Markit Media serves local clients in the Greater Phoenix area and provides services to companies across the United States. Their office is located at 4419 North Scottsdale Road, Suite 118 in Scottsdale, Arizona. The Toll Free telephone number is (888) 711-7771 or the regular line is (480) 245-4287.
Markit Media does more than just printing. They specialize in full service marketing support, which also includes web design as well as graphic design and printing.
Many clients work with Markit Media to create a comprehensive marketing program with a distinctive look and feel that ties together the company website with all the other print and marketing materials. Markit Media creates stunning marketing images that really make companies stand out from the crowd.
Visit the Markit Media website at http://markitmedia.com for more information or give them a call today at (480) 245-4287.