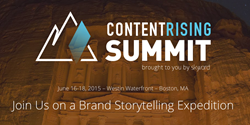 Boston, Mass (PRWEB) April 30, 2015
Skyword, the leading content marketing platform and services company, announced that it will host the Content Rising Summit, its first multi-day conference for digital marketers and brand content creators.
WHAT: Content Rising Summit
WHEN: Tuesday, June 16 - Thursday, June 18, 2015
WHERE: Westin Waterfront, 425 Summer St, Boston, MA 02210
TICKETS: http://www.skyword.com/content-rising-summit/
The event will give attendees the insight and inspiration needed grow and engage audiences through original brand stories. Robert McKee, screenwriting guru known for his "Story Seminar," will show how storytelling concepts are key for brands looking to differentiate and build customer trust.
The Content Rising Summit will feature sessions that address the many challenges marketers face in original content creation such as editorial strategy, amplification, replicating content marketing programs globally, and measuring business results.
Speakers Include:
Pam Didner: Author of Global Content Marketing, former Global Marketing Strategist at Intel
Jim Duffy: Senior Director of Corporate Communications at ADP
Ann Handley: Chief Content Officer at MarketingProfs, Author of Everybody Writes and Content Rules
Andy Hilton: Global Communications Executive at ADP
Ian Fitzpatrick: Chief Strategy Officer at Almighty
Robert McKee: Storytelling and screenwriting instructor, former Professor at the University of Southern California
Patty Foley-Reid: Director of Solutions Marketing and Demand Generation at Veracode
Andrew Reinbold: Marketing Manager at Anthem Inc
Dayna Rothman: Senior Content Marketer at Marketo, Author of Lead Generation for Dummies
Marcel Santilli: Senior Content Marketing Manager at Hewlett-Packard
Tiffany Smith: Senior Associate Editor at Care.com
Larry Vincent: Chief Branding Officer at UTA Brand Studio
Presentations and roundtable discussions will touch on current digital marketing trends and challenges including content strategy, brand storytelling, amplification, measurement and ROI, and scaling content marketing globally.