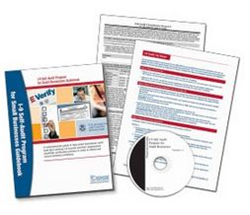 "Businesses need to feel confident that they have their paperwork filed properly so it does not take time and focus away from running their business." - Robert Leland III
Ontario, CA (PRWEB) May 04, 2015
Personnel Concepts, a nationwide provider of Labor Law Posters and Compliance products, has announced the launch of their new I-9 Self-Audit Kit. This product is a comprehensive collection of information, checklists and forms intended to help employers audit I-9 forms for common errors to prevent potential fines in the event of a government inspection.
All employers utilize I-9 forms to verify employee identities and establish if a worker is eligible for employment in the U.S. Under the Immigration Reform and Control Act (IRCA), employers are required to verify the employment eligibility of all new-hires and document that process via the I-9, which must be retained for 3 years from date of hire, or 1 year following termination (whichever is later). All employers must ensure and audit both their existing I-9 records and their employment eligibility verification process in order to detect and correct potential violations. I-9 enforcement investigations have increased by nearly 1,100% since 2007, and fines for simple errors can cost an employer up to $1,100 per violation. Employers must conduct I-9 self-audits to demonstrate good faith compliance, which can result in reduced errors and penalties assessed during a U.S. Immigration and Customs Enforcement (ICE) Investigation.
"Personnel Concepts knows firsthand what employers have to go through to make sure they are in compliance with all government standards. That constant cycle of staying in compliance can be overwhelming," said Robert Leland III, Personnel Concepts' Director of Research. "Businesses need to feel confident that they have their forms filled out and filed properly so it does not take time and focus away from running their business. This tool will allow them that worry-free assurance that everything is checked and double checked and ready for an inspection at any time."
The I-9 Self-Audit Kit is designed for all business owners. "We really want to show how to properly perform an audit so that anyone can do it. Not everyone is an expert in government language and processes and this product recognizes that. The kit is written in plain language and is very intuitive," said Leland. "We have seen these types of products save companies thousands of dollars. I certainly hope employers take advantage of this opportunity."
###
Personnel Concepts is an Ontario, California based company that provides Labor Law Posters and compliance products to businesses of all sizes around the country. Since 1989, Personnel Concepts has consistently innovated and delivered the gold standard in Labor Law Posters. Personnel Concepts pioneered the All-In-One State and Federal Labor Law Poster that has since become an industry standard. For more information on Personnel Concepts, please call 855-880-4312 or visit http://www.personnelconcepts.com.