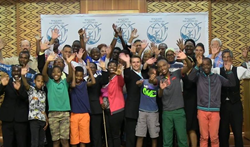 It is not only vital to spread grassroots drug education in our communities; it's also surprisingly simple
(PRWEB) April 29, 2015
According to the South African Police Service (SAPS), drug-related crime in Gauteng Province has soared some 400 percent over the past decade and nearly doubled between 2013 and 2014.
These sobering statistics explain the urgency to the Foundation for a Drug-Free World's Open House event hosted by the Church of Scientology Pretoria on April 7— World Health Day. The theme reflected the determination of community leaders to mount aggressive action against a drug abuse scourge that has taken hold throughout South Africa.
During the event, a chaplain for the Johannesburg Metro Police stressed the overwhelming importance of drug education, quoting from Hosea 4:6 "My people are destroyed for lack of knowledge." No single entity can solve the drug-and-crime issue alone, he maintained.
It is not only vital to spread grassroots drug education in our communities; it's also surprisingly simple, expressed Maurithus Meiring, Drug Free World Coordinator for Africa and Director of Special Affairs for the Church of Scientology Pretoria.
Meiring has guided the introduction of the Scientology-sponsored Truth About Drugs campaign to community leaders throughout the region. He demonstrated how easy it is for anyone to learn to provide effective drug education using The Truth About Drugs materials and curriculum.
The key to the initiative is its capacity to stir young people, shake up their misconceptions and supply them with an unflinching view of a drug-addled existence – seen from the perspective of those who were caught in its tentacles and lived to tell the tale. It includes the award-winning They Said—They Lied public service announcements that spotlight the misinformation bombarding young people from media and peers alike.
The conference infused attendees with a feeling of excitement and renewed determination, with plans for future drug education events and concerts designed to convey the drug-free message to thousands at a time.
Inspired by the words of L. Ron Hubbard, Founder of the Scientology religion, that "a being is only as valuable as he can serve others," Scientologists wholeheartedly support programs like The Truth About Drugs. Participation and collaboration are invited and welcomed from all who seek to improve conditions for themselves and others.
For more information, visit the Scientology website at http://www.Scientology.org/how-we-help/voice-for-humanity.