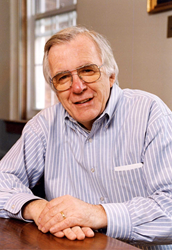 O'Brien is "one of the foremost American Catholic historians and social analysts of the past four decades." - America Magazine
RIVERDALE, N.Y. (PRWEB) April 29, 2015
David J. O'Brien, Ph.D., professor emeritus of history and Catholic Studies at the College of the Holy Cross, will deliver the keynote address at Manhattan College's 173rd Undergraduate Commencement on Sunday, May 17 at 1 p.m. He will also receive an honorary Doctor of Humane Letters at the ceremony.
"We are honored to have David O'Brien address our graduating class of 2015," says Brennan O'Donnell, president of Manhattan College. "His work has contributed greatly to our understanding of the history of the Catholic Church in the United States while illuminating and strengthening the role of the Catholic university in American intellectual life."
America magazine describes O'Brien as "one of the foremost American Catholic historians and social analysts of the past four decades." A faculty member at Holy Cross since 1969, O'Brien is the founding director of the Center for Religion, Ethics and Culture at Holy Cross.
One of the first American historians to specialize in American Catholic history, O'Brien has written or edited seven books and produced many scholarly articles. A frequent lecturer, he has received numerous accolades for his work, including the Theodore M. Hesburgh Award for Distinguished Contribution to Catholic Higher Education from the Association of Catholic Colleges and Universities.
O'Brien has also been actively engaged with social and political causes since the Vietnam War. He was one of the organizers of the United States Bishops' 1976 Call to Action program, as a response to the Second Vatican Council and in celebration of the bicentennial of the American Revolution, declaring that the church must work to build liberty and justice for all in modern society.
O'Brien received a Bachelor of Arts degree from the University of Notre Dame and a doctorate in history from the University of Rochester. As past president of the American Catholic Historical Association, he has also completed post-doctoral studies in theology at the Harvard Divinity School and the Weston School of Theology.
Manhattan College will award approximately 750 undergraduates with degrees in 40 major fields of study from its schools of Arts, Business, Education and Health, Engineering and Science on May 17. For complete information on Commencement 2015, visit manhattan.edu/commencement.
Members of the media who would like to cover the Commencement ceremony should email Pete McHugh, director of communications, at peter.mchugh(at)manhattan(dot)edu.