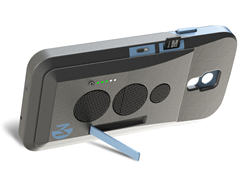 MODR can do it all, and is ready to expand to the limit of imagination. - CEO Vlad Ivanovski
Toronto, ON (PRWEB) April 30, 2015
MODR Inc., featuring developers of the award-winning 'Gametime Scoreboard', introduces MODR a product designed to be the last mobile device case that users ever buy. MODR is a sleek modular mobile device case that allows users to customize their devices with revolutionary features and unlimited expansion options.
USB On-The-Go (OTG) Hub – For the first time ever, an amazing USB On-The-Go Hub is built-into a mobile device case. MODR can connect multiple devices while simultaneously charging mobile devices.
Smartphone Cameras Revisited – MODR enables a variety of beautiful and versatile images to be captured on a tiny mobile device camera, thanks to powerful macro, wide angle, zoom and fisheye lenses.
Realize Potential with reModules - Micro SD reader, LED flashlight, camera flash assist, and customizable NFC button reModules can be used across all versions of MODR, and give users the power to customize the abilities of mobile devices.
Stand Strong – Work or play for hours in comfort with MODR's sturdy kickstand, which allow users to enjoy all the new functionality without having to hold the phone.
Power When Needed – A Qi-compatible wireless charging induction coil is standard on this amazing new product, allowing charging without cables.
Sleek Protection & Design – A soft, shock absorbent interior is encased within a hard external shell with heat transfer adhesive keeps the form factor of the case slim and trim, helping make MODR less bulky than the leading technological smartphone cases.
Expand Exponentially – Connect larger expansion modules to the rear X-Port, with a 3500mAh battery pack or Bluetooth-powered speakers available at launch. Pico projector and solar charger X-Port accessories will be available if Indiegogo stretch goals are reached.
Future Device Adaptability – With a fully funded crowdfunding campaign, MODR will be available for the Samsung Galaxy S4, S5 & S6, which are the most popular Android phones on the market right now. Stretch goals will allow MODR to be adapted for any other model of smartphone or tablet, including Android, Blackberry, Microsoft and Apple. Each additional device will be chosen by backers as the stretch goals are reached. Laptops such as the New MacBook will also be supported as higher stretch goals are achieved.
*Certain devices are limited in their own basic abilities, and may not be compatible with all of MODR's functions and devices.
Availability – MODR will be available for pre-order via Indiegogo on May 11th. The crowdfunding platform is being used in order to accelerate initial production by financing the setup of production lines and to lower costs by purchasing components in bulk.
MODR will retail for $149 USD for the Power Pack including two reModules of the user's choice, the 3500mAh battery accessory, and the MODR wireless charge pad. As a crowdfunding perk, it will launch on Indiegogo for $129 for the same Power Pack. Alternatively, the Core Pack will retail for $79 ($69 on Indiegogo) and allow users to individually choose and purchase their favorite accessories. MODR is slated to be available in stores the third quarter of 2015.
Specs
Compatibility: Android, Blackberry, Microsoft Phone and Apple smartphones and tablets
PC and Macbook Laptops (future compatibility)
Connectivity:
2x reModule ports
1x Expansion X-Port
1x Charge/Sync Port
Built-in multi-device USB On-The-Go hub
Charging:
Wireless Charging (Qi Standard)
Cable Charging/Sync
Dimensions 2.95"(75mm)L x 5.98"(142mm)H x 0.58"(14.7mm)W
Contact
For more information, please visit http://www.GoMODR.com.
Tel: +1(855) 416-4869
Email: info(at)GoMODR(dot)com
Download the PDF Press Kit here
PR Kit ZIP at http://www.GoMODR.com