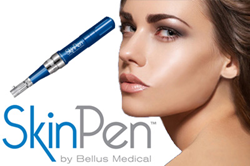 SkinPen can help improve the appearance of fine lines, wrinkles, acne scars, hyperpigmentation, stretch marks and other skin texture conditions.
Summit, NJ (PRWEB) May 05, 2015
Ethos Spa announces the arrival of revolutionary anti-aging treatment SkinPen.
Ethos Spa, New Jersey's premier skin and laser care center, is proud to announce the addition of SkinPen, a revolutionary anti-aging treatment, to their prestigious line of products and services. This state-of-the-art treatment is only available through qualified skin care professionals, and Ethos' commitment to providing cutting edge treatment options has allowed them to become part of a dedicated group of physicians providing SkinPen in the state of New Jersey.
SkinPen is a unique system that is designed to stimulate your skins' natural ability to repair itself. It is a minimally invasive procedure that can be done in the office with little to no downtime, and is safe for virtually all patients. The patented lightweight design can be used in delicate places such as around the eyes, nose and mouth with little to no discomfort during the procedure and mild after-effects that generally disappear within a few days.
The SkinPen system has the ability to dramatically improve acne scars, stretch marks, hyperpigmentation, fine lines and wrinkles and other conditions that can leave the skin looking and feeling worn down. It works by creating a series of microscopic channels into the skin that then stimulate the production of elastin and collagen, resulting in younger, healthier looking skin with virtually no risk to the patient. Treatments can be performed in as little as 30 minutes, and in most cases, the patient can return to work immediately following the appointment.
Ethos Spa is dedicated to providing the most state-of-the-art, minimally invasive treatments available on the market today. The doctors and staff are highly qualified and dedicated to providing the very best experience possible in their relaxing and luxurious facilities. The goal is to ensure that the patient looks and feels their best, feeling rejuvenated and reinvigorated as they walk out the door.
With the addition of the new SkinPen system, Ethos Spa is confident that no matter what your skin care needs, they can design a treatment program especially for anyone. And with cosmetic procedures now more affordable than ever before, Ethos Spa is committed to finding a treatment protocol that provides the results that anyone is looking for at a price they can afford.
The knowledgeable and professional staff at the conveniently located Summit, NJ and Englewood, NJ office will be happy to take your call and assist you by answering your questions and helping you set up a free consultation to discuss your skin care options.