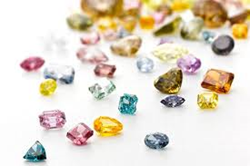 Palm Beach, Florida (PRWEB) April 30, 2015
Diamante Atelier and Rare Colored Diamonds announced the recent sale of two, one-of-a-kind diamonds to Mr. Peter Seng of Long Island, New York, for a record-breaking, undisclosed price.
The 1.55 fancy deep green modified rectangular brilliant diamond is set in a ring and surrounded by fancy pink diamonds which enhance and compliment the beautiful green stone. It is further enhanced by an elegant, scalloped design of white diamonds. This diamond comes with a special Stephen Hofer Report, who's coveted reports only feature the best rare natural colored diamonds in the world.
The .66 marquise brilliant cut fancy intense orange diamond is so special and so rare! It sparkles with such intensity and fire. It is the ultimate collector's item. Orange diamonds are truly rare in the realm of diamonds, quite often with buyers on waiting lists worldwide.
Mr. Peter Seng was born in Shanghai, China. He moved to New York City to attend Columbia University receiving his B.A and M.A. He has lived in Long Beach for nearly 30 years and owns a condo in Palm Beach County as well. In 1975 he started his own company in Manhattan in the ladies' fashion industry. He has also set up two perpetual scholarship funds that have grown to more than 128million dollars.
Mr. Seng built a contemporary style home which was selected by the Carolina Home & Garden Magazine as one of the 3 most interesting homes in NC and SC for the year of 2013. Mr. Seng loves to acquire collectibles including fine works of art and relics of nature. He loves to travel as well, having been to over 90 countries.
Mr. Aman and Mr. Seigel are both thrilled to have such items of rare beauty find a home with a buyer who truly understands such beauty. It appeals to those who appreciate not only fine works of art created by nature and crafted by man, but also to those seeking to make one of the wisest choices in investing on the market today. People are beginning to become aware that investing in fancy colored diamonds is a sure way to attain assets that will continually and consistently appreciate year after year.