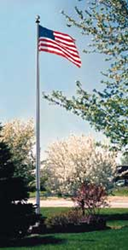 ...customers see that these residential sectional flagpoles make great gifts...
Atlanta, GA (PRWEB) April 30, 2015
The Flag Company, Inc.'s best residential flagpole is both high quality and affordable, and selling big again this spring, as sales have consistently increased since the items were first introduced on the Flagpole Warehouse.com, a division of The Flag Company, Inc.
Available in two finishes, either Brilliant Satin or Beautiful Bronze, and in two sizes, 20 ft. and 25 ft., these residential commercial grade flagpoles are the same high quality as the single piece commercial grade poles but with the added advantage of being sectional, making shipping affordable via UPS. The 20 ft. pole comes in 3 sections, while the 25 ft. pole comes in 4 sections. Prices range from $390.95 and $470.95 for the two satin sizes, to $500.95 and $640.95 for the bronze versions. Other details included as standard accessories:
· Cast Aluminum cleat with mounting screws
· PVC foundation sleeve
· Gold Aluminum Ball Ornament
· Cast Aluminum Stationary Truck with pulley
· Solid braided polypropylene halyard
· Optional flash collar
"For the past few spring seasons, we have been noticing the rising popularity of our high quality residential flagpoles," says Mike Lawrence, Vice President of The Flag Company, Inc. "This spring has started out good with increased sales as customers see that these residential sectional flagpoles make great gifts not only for dads but granddads, grads, and veterans of all ages. It's good to see that people want to take pride in flying our flag."
About The Flag Company, Inc.
In addition to being the largest online supplier of flags and flagpoles, The Flag Company, Inc. owes its start to the success of its original product, Farming Flags®. The Flag Company, Inc. also manufactures its patented Flagpole Beacon for its Illuminator Series flagpoles and for single sale retrofits. Eighteen distinct categories of customers can choose from an expansive inventory of over 6,500 items. The Flag Company, Inc. now also partners with a machine and manufacturing company, expanding its capability to provide custom brackets, finials, hardware, etc. for special situations. Additionally, it is collaborating on creating robotic equipment for use in the flagpole industry.
With special and challenging projects a strength for The Flag Company, Inc., resumé highpoints include flagpoles for Georgetown University in Qatar, the Spiral Rotonde at Aruba International Airport, and Dow Chemical Headquarters in Michigan, and the 1996 Centennial Olympics in Atlanta, GA, and prior. Celebrating 26 years of providing excellent products and customer service, The Flag Company, Inc. appreciates all its loyal customers and hard-working employees as it looks forward to many more years of leading the industry. The Flag Company, Inc. has websites targeting its many customer categories: http://www.flagco.com, http://www.flagpolewarehouse.com, http://www.valley-forgeflag.com, http://www.feelgoodlightups.com, http://www.toothpickflag.com, and http://www.digitalprintingservice.net.