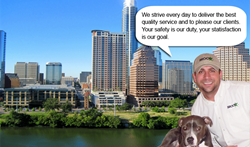 "Our treatment methods are derived from one simple idea… keep the bugs where they belong, OUTSIDE!!!" - Brock Anderson
Austin, Texas (PRWEB) May 01, 2015
Spring is not the only thing in the air. Pests are now on the rise as spring comes into full bloom in Austin, TX. While the spring flowers that dot the surrounding Hill Country landscape draw tourists from all over the state and even the country, they also tend to attract some unwelcome guests — insects and pests. This is why BrockStar Pest Services is recognizing National Pest Management month and strengthening its commitment to protecting local homeowners and businesses from invasions of harmful pests. "At BrockStar, we assist our clients to realize the importance of pest management in your home or business. Our safe pest treatment methods are derived from one simple idea… keep the bugs where they belong, OUTSIDE!!!" says owner/operator Brock Anderson. "Our client's safety is our duty, and their satisfaction is our goal."
National Pest Management Month is recognized each April, providing an opportunity for pest management professionals to share their knowledge of pest prevention techniques with the public in an effort to protect their families and homes from pests.
While there is never really a down season when it comes to pest management in Austin, peak season is nearing as spring gets into full swing. BrockStar has released some valuable pest management tips that can help Austinites protect their homes and businesses from the swarms of spring and summer pests that tend to flock to the area, including stinging insects, flies, ants, termites, mosquitoes, and fleas.
BrockStar's Spring Pest Management Tips
1. Repair torn window screens to prevent flying insects from gaining access.
2. Seal openings and cracks in the exterior of the home using a silicone caulk.
3. Trim landscape plants and tree branches away from the home.
4. Repair loose mortar around the windows and foundation of the home.
5. Repair damaged roof shingles and fascia.
6. Check exterior faucets for leaks.
7. Clear clogged gutters and drains to prevent mosquitoes.
8. Conduct a thorough spring-cleaning.
9. Store recycled materials and trash in sealed containers.
10. Clean the recycling bin regularly to eliminate excess oils and sugars that could attract pests.
BrockStar advises homeowners and business owners to contact a pest management professional if they have any questions regarding how to protect their outdoor or indoor living spaces from pests.