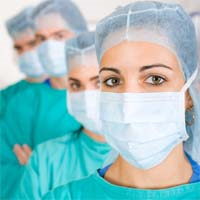 Intrapleural photodynamic therapy after surgical resection...significantly improved the survival of patients.
Raleigh, NC (PRWEB) April 30, 2015
A French team analyzing the light-based cancer treatment known as photodynamic therapy (PDT) has concluded that the practice is both safe and life-extending when used as an adjunct to surgery. Surviving Mesothelioma has posted a new article on the research. Click here to read it now.
Doctors with Calmette Hospital in Lille, France and Inserm (The French Institute of Health and Medical Research) analyzed 16 studies on the post-surgical use of PDT in mesothelioma patients and published their findings in the Annals of Thoracic Surgery.
"After two decades of clinical studies, intrapleural photodynamic therapy after surgical resection became a safe treatment that significantly improved the survival of patients," reports lead researcher Camille Munck.
Mesothelioma patients on PDT get an injection of a photosensitizing drug that makes cancer cells susceptible to damage from a particular wave length of light. PDT is usually used in conjunction with surgery to remove the diseased pleural membrane.
"We are encouraged by these findings, especially in light of the fact that PDT tends to produce far fewer side effects for mesothelioma patients than either chemotherapy or radiation," says Alex Strauss, Managing Editor of Surviving Mesothelioma.
To read more about the use of PDT for mesothelioma and the latest study, see Light-Based Therapy Extends Mesothelioma Survival, now available on the Surviving Mesothelioma website.
Munck, Camille et al, "Intrapleural Photodynamic Therapy for Mesothelioma: What Place and Which Future?," April 23, 2015, The Annals of Thoracic Surgery, Epub ahead of print, http://www.sciencedirect.com/science/article/pii/S0003497515001319
For nearly ten years, Surviving Mesothelioma has brought readers the most important and ground-breaking news on the causes, diagnosis and treatment of mesothelioma. All Surviving Mesothelioma news is gathered and reported directly from the peer-reviewed medical literature. Written for patients and their loved ones, Surviving Mesothelioma news helps families make more informed decisions.