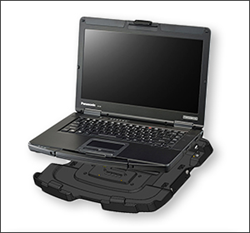 WARMINSTER, Pa. (PRWEB) April 30, 2015
Havis Inc., an ISO 9001:2008 certified company, announced that the new Docking Station for the Panasonic Toughbook 54, is now available for pre-order. This durable yet lightweight docking solution accommodates all Toughbook 54 models and features a low-profile design to maximize available space in a vehicle.
The docking station provides a secure location for computer charging and connection to peripherals as well as access to the laptop's bottom SmartCard reader when docked. Full port replication incorporates best-in-class circuitry, includes ports for Ethernet, video, serial and HDMI cables, and allows users to easily connect up to two fully-powered USB 3.0 cables. It also includes integral mounting for the addition of the Havis Rugged Communications Hub, which expands connectivity to a total of five USB ports and two Ethernet ports.
By utilizing recessed port replication and strain relief, Havis docking stations are designed to protect cable connections and prevent accidental disconnects. Additionally, a guided, floating docking connector provides a safe and secure connection between the dock and laptop.
To further ensure reliable performance in in the field, the Docking Station for the Panasonic Toughbook 54 is currently undergoing the industry's toughest safety and quality testing. This includes in-vehicle crash simulations, military-grade vibration testing, hot/cold operation and storage testing, and extensive cycle testing. For additional security, the docking station features an easy-to-use latch handle and barrel lock that work together to effectively keep the Toughbook 54 docked and functional, even with repeated use.
The Docking Station Series for the Panasonic Toughbook 54 includes models featuring a dual high-gain antenna to improve range and Lind power supply with customized cord length and connector tip. Havis also offers a cradle-only version without the electronics of a docking station.
As a Toughbook Certified Partner of Panasonic, Havis is well-versed in building the safest and most reliable docking solutions to improve mobile worker productivity. This partnership with Panasonic, as well as those with other equipment manufacturers, gives Havis the opportunity to continually design custom solutions that enhance comfort and safety in the field.
For more information on the Havis Docking Station for the Panasonic Toughbook 54, please visit http://www.havis.com/toughbook-54.
Follow Havis
Stay up-to-date on the latest products and announcements from Havis through the Havis Equipped Blog, LinkedIn and Facebook.
About Havis
Havis Inc. is a privately held, ISO 9001:2008 certified company that manufactures in-vehicle mobile office solutions for public safety, public works, government agencies and mobile professionals. For over 80 years, the Havis mission has been to increase mobile worker productivity with industry-leading products that are built to the highest safety and quality standards and are designed with comfort in mind. Headquartered in Warminster, Pa., with an additional location in Plymouth, Mich., Havis currently employs 200 people. For more information on Havis, please call 1-800-524-9900 or visit havis.com.
Contact:
Andrea Felice
Havis, Inc. | Marketing
Phone: 215-957-0720 ext. 3198
E-mail: media(at)havis(dot)com
Website: havis.com
# # #