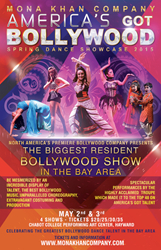 Sunnyvale, CA (PRWEB) April 30, 2015
Mona Khan Company, the Bay Area's renowned Bollywood Dance & Fitness Company will present America's Got Bollywood on May 2nd and 3rd, 2015, at Chabot College Performing Arts Center in Hayward. The company's semi-annual dance showcase is the Bay Area's largest Bollywood resident show and is held twice every year–in May and November. The spring showcase on May 2nd and 3rd will include two shows on each day, with the early show at 1:00 pm and the evening show at 5:30 pm PST.
Supported by over 40 production crew and staff, the show will feature:

1300+ students, ages 3 to 60 years, from 10 cities: Cupertino, Dublin, Fremont, Foster City, Milpitas, Mountain View, Pleasanton, San Jose, Sacramento and Sunnyvale
The professional company troupe which includes dancers of America's Got Talent fame
Their 'Emerging Performer' dancers, a group of 50+ highly specialized junior company talent
Over 50 trained and seasoned dance instructors
Community outreach students including 'Jollywood' (a senior citizens class) and Jeena (students with special needs)
The troupe's performance repertoire includes performances with numerous Bollywood singers and actors like Shah Rukh Khan, Shaan, and Shankar Mahadevan. In 2010, the Mona Khan Company was chosen out of 70,000 acts across the nation as a finalist in the Top 48 on the NBC show, America's Got Talent, Season 5. The troupe has also performed at NBA half-time shows and at the San Francisco Ethnic Dance Festival. In 2013, the troupe performed at an Inaugural Ball in Washington D.C. honoring President Obama's second term in office. In 2014, the company was invited to perform at Oprah Winfrey's 'The Life You Want' event in San Jose.
About Mona Khan Company: Headquartered in Sunnyvale, CA, Mona Khan Company offers Bollywood dance & group exercise classes in various locations in and around the San Francisco Bay Area. The company is a leader in providing the best of Bollywood style entertainment through its classes and through its elite team of professional dancers who perform at various events throughout the Bay Area. For more information, please contact info(at)monakhancompany.com or visit http://www.monakhancompany.com