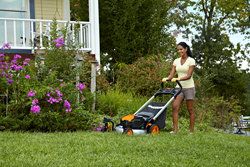 Charlotte, N.C. (PRWEB) April 30, 2015
WORX levels the playing field with a 56V product line with performance characteristics that rival its gas powered competitors. Gone are the fumes, hard start-ups, gas and oil storage, changing spark plugs and pricey tune-ups.
Both 56V mowers feature 19 in. steel decks with premium mulching capabilities. These mowers provide gas-like power performance and mow 8,500 sq. ft. (WG772) and 9,400 sq. ft. (WG771) on a single battery charge. In perspective, a full-size regulation tennis court is 7,200 sq. ft. The WG771 model features caster wheels on the front with 360° rotation. The wheels can be locked in straight-line position when mowing berms, slopes or inclines. The mower decks feature seven adjustable wheel height positions from 1-1/4 to 4 in. high.
The 3-in-1, 56V MaxLithium push mowers give homeowners the option to mulch, bag or side discharge grass clippings. The WORX NutriCut™ system features dual edge mulching blades to provide natural lawn fertilization. These models also feature Intellicut™, which is a torque-on-demand system that monitors the mower's need for torque. No more bogging down in tall or thick grass. Homeowners simply set the dial to POWER when conditions call for more torque or switch to ECO mode for everyday use.
Cleanup is a snap with the mower decks wash-out port. Simply insert a hose in the port and run the mower briefly. The blade's velocity and water pressure combine to dislodge caked-on grass for a clean undercarriage.
The WORX 56V MaxLithium 19 in. 3-in-1 Lawnmowers (WG771, $499.99) and (WG772, $399.99) are available at http://www.worx.com and other retailers.
WORX new 56V Trimmer-Edger features Command Feed.™ This new line feed system advances trimmer line instantly. No more bump feeds or waiting for line to advance before cutting. With Command Feed, the user electronically controls when to feed more line by pressing, then releasing, a pushbutton above the trigger. The trimmer uses a thicker, professional line (.080 in. diameter) that is more durable than conventional line. WORX incorporates a quick-change, easy-to-load, pre-wound spool, so there's no fumbling with line changes.
Converting from trimming to edging is easy. Press the large pushbutton high on the shaft, and it releases the power head assembly so it can rotate into place for in-line, wheeled edging. This new twist-and-edge feature operates smoothly for a seamless transition between functions.
In edging mode, two wheels help guide the trimmer along the lawn's edge for professional looking results. The 56V trimmer weighs 8.8 lbs., and has a cutting swath of 13 in.
The 56V trimmer's exclusive pivoting head allows the shaft to pivot from 0 to 90°. This enables access to reach under decks, operate on steep inclines, dense bushes and trees and other hard-to-reach areas.
The WORX 56V Trimmer/Edger (WG191, $199.99) includes one 56V MaxLithium battery pack, a 90 minute charger, edging support wheels, and a spool of line. The trimmer is covered by the WORX 3-year warranty. It's available at http://www.worx.com and other retailers.
To reach out to WORX social media links visit: Facebook: https://www.facebook.com/worxus?ref=hl; Twitter: https://twitter.com/WORXTools;
Pinterest: http://pinterest.com/worxtools and Instagram: @WORXTools