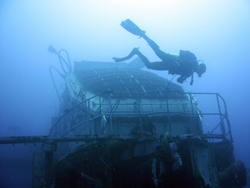 Pensacola, Fla. (PRWEB) April 30, 2015
The weather is beautiful, and those who love adventures are most likely itching to get outdoors and explore. The Pensacola Bay Area has always been known for offering travelers traditional outdoor adventures like world-renowned fishing and outdoor water sports. For those visitors looking to try something new, the exciting adventures below offer a combination of height, depth, speed, skill and smarts.
Zip Adventures: There's zip lining; then, there's a zip adventure. The difference? A zip line usually takes you from Point A to Point B and the thrill is gone. A zip adventure is a series of zip lines, totaling up to a mile long, that take you on a treetop tour of Northwest Florida's Wolfe and Coldwater Creeks. Adventures range from $80 to $130 and take anywhere from two to five hours.
Powered Paragliding: Flying through the sky without an airplane, using only your body, a parachute and a power motor attached to your back, is the newest adventure to arrive in the Florida Panhandle. Adventure seekers who love heights and a feeling of freedom can take training courses on powered paragliding and select from different experiences. Training is a must, and if you have your own power motor, you can bring it or rent one for the adventure of a lifetime, soaring through the skies over scenic beaches. Daily training prices with equipment rentals run up to $300 a day.
Underwater Archaeology and Night Diving: See the former aircraft carrier the USS Oriskany up close and personal. It rests 26 miles off Pensacola Beach. Known as the "Mighty O," it's the world's largest artificial reef and a must-see diving spot. In addition, the USS Massachusetts, a popular dive site for more than 50 years, is only 1.5 miles from the beach and has been dedicated as an underwater archaeological preserve. Dive the Massachusetts at night to see sharks, stingrays and sea turtles.The Pensacola Bay Area also hosts several shipwrecks along the Florida Panhandle Shipwreck Trail. For those wanting something not far from shore, the Perdido Key and Pensacola Beach artificial snorkeling reefs are a perfect place to paddleboard, kayak, snorkel and dive in fewer than 20 feet of water.
Tandem Skydiving: Imagine yourself perched on the edge of an airplane door hovering over Pensacola at 14,000 feet and your tandem master just gave you the green light to jump. Could you do it? If freefalling through the clouds at 120-miles-per-hour is your kind of speed, Pensacola Skydiving is just for you. About 60 seconds of pure adrenaline later, your tandem instructor will give you the signal to pull the ripcord and release the parachute. Finishing off your experience is a peaceful 5-to-10 minute canopy ride that offers spectacular views of Pensacola and its waterways.
Surf Fishing: Don't worry. This is not fishing from the back of a surfboard, like it sounds. This fun activity lets you stay on the shore, while you attempt to catch saltwater fish that swim near the beach, such as Pompano, Whiting, Redfish, Black Drum and Trout. Take a day and sit in the sun along the sugar-white sands of Pensacola Beach or Perdido Key and see what bites. The Pensacola Beach Pier sells bait and can provide helpful information.
Lionfish Hunting: This is an underwater hunting adventure that will bring you face to face with a magnificent, yet dangerous, fish and help the ecosystem at the same time. Lionfish are an invasive species, and communities along the Gulf Coast are asking divers to help reduce their population by hunting them down and taking them out of our waters. The next time you go scuba diving, ask your dive captain to teach you how to spear the lionfish. Once you get the hang of it, you can participate in a local fishing rodeo like "Lionfish Removal and Awareness Day", taking place in Pensacola May 16-17.
Climbing High: For those not afraid of heights, climb the 177 steps to the top of the Pensacola Lighthouse and Museum for one of the most beautiful views on the Gulf Coast. Built in 1859, the tower is located on board Naval Air Station Pensacola and offers stunning views of Pensacola Pass, three forts and the historic Navy Yard. Another fantastic lookout point is at Big Lagoon State Park. For breathtaking views of the 655-acre park and Intracoastal Waterway, be sure to climb the observation tower. The park offers activities for everyone. While strolling through the park you can meet the local residents like Blue Herons, Bald eagles and hawks, kayak through the salt marshes or fish. On your walk back from the tower, stop by Long Pond, known for alligator sightings. Entrance fees to the park are $6 per vehicle.
Pensacola Geo Tour: This is an on-land treasure hunt that allows families and children to explore Pensacola's award-winning beaches and destinations in a fun way through geocaching. Visitors use GPS-devices (mobile phones) to locate clues hidden across the city. You can select from four different trails or complete them all for a prize.
Horseback Riding on the Blackwater River Heritage Trail: Adventures in the Pensacola area are not always close to the shore. Horseback riding along the Blackwater River Heritage Trail takes you to the countryside, through historic Milton, through the forest, past farms and along streams on an 8.5-mile trail that you can walk, rollerblade or bike. Why not horseback ride? Country Adventures in Milton offers guided trail rides for adults and children. Rates begin at $20 an hour.
Birding and Nature Trails: For explorers seeking the rare and unique, patience is key while journeying through one of the Pensacola Bay Area's many nature trails. Tarkiln Bayou Preserve State Park boasts the extraordinary, carnivorous white-top pitcher plant. It's also where the world's greatest concentration of insect-eating pitcher plants species can be seen. More than 280 species of birds can be seen along the trails of the Gulf Islands National Seashore, including spotted sandpipers, osprey, herons, warblers and plunging gannets. Part of the Great Florida Birding Trail, ECUA Bayou Marcus Wetlands features nearly 8,000 feet of boardwalk through wetlands where Swamp, Song and White-throated Sparrows exploit the weedy edges and Brown-headed Nuthatches and Pine Warblers call from the adjacent pinewoods. Big Lagoon State Park boasts unique birds such as Common Loons, Great Blue Heron and Yellow-billed Cuckoos. Located on the University of West Florida campus, the Edward Ball Nature Trail provides a glimpse at wintering Blue-winged Teal, Hooded Merganser, Bufflehead and the odd Groove-billed Ani. Arcadia Mill Archaeological Site in Milton offers visitors an elevated boardwalk stroll through a unique wetland ecosystem that holds the remains of what was once a water-powered sawmill. Pensacola Beach plays host to the Footprints in the Sand – Eco Trail where visitors can learn about native plant and animal life through educational signs posted at key locations across the beach, each one focusing on a different ecological topic.
In addition to the options above, Pensacola and Perdido Key offer private charter boat trips for fishing or relaxation, sailing lessons, kayaking, parasailing, bike riding on the beach sidewalks or through the trails of the Gulf Islands National Seashore, and the list goes on, creating endless opportunities for adventure.
##
About Visit Pensacola
Visit Pensacola leads the effort of economic development through tourism in Escambia County. Comprised of more than 200 member businesses, Visit Pensacola's mission is to position the Pensacola Bay Area as a premier year-round travel destination through tourism marketing, communications, meetings and conventions, reunions and group tour initiatives. For more information about Visit Pensacola, call 1-800-874-1234 (toll-free) or go to VisitPensacola.com.
###
Media Contact:
Brooke Fleming
Visit Pensacola
(850) 433-0724 bafleming(at)visitpensacola(dot)com
Katie King
EW Bullock Associates
(850) 438-4015 katie(at)ewbullock(dot)com